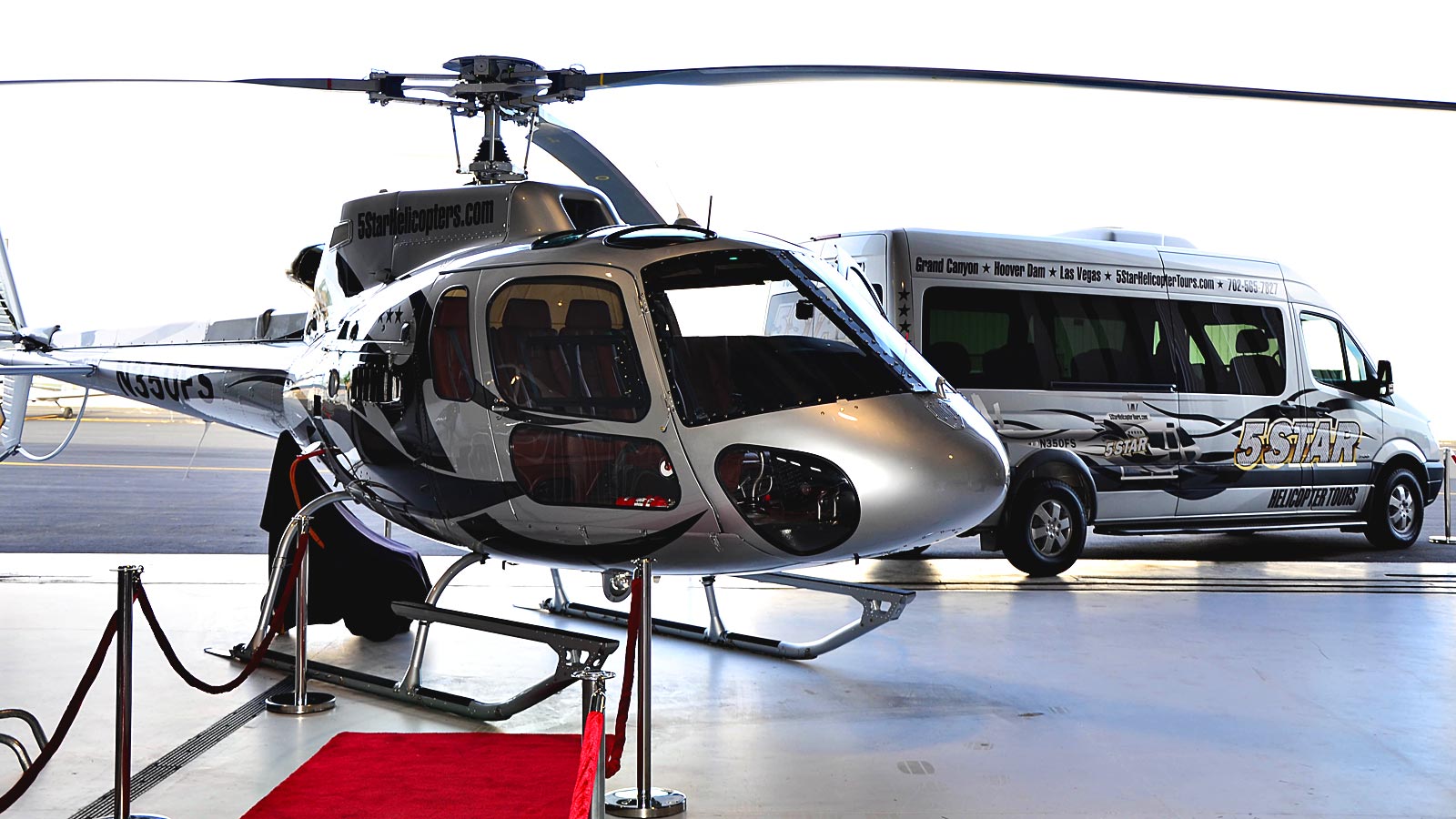 Adventurous Thing to Do in Las Vegas
5 Star Helicopter Tours
LAS VEGAS HELICOPTER TOUR
There is no better way to kick off the night in Las Vegas than to take a breathtaking helicopter flight over the Strip. Fly over iconic casino's like Mandalay Bay, New York New York and the Belagio Fountain. Fly pass the High Roller and get right up on the Stratosphere. You may have seen the bright lights of Las Vegas before, but you've never seen them like this!
GRAND CANYON HELICOPTER WITH SKYWALK
We offer you the opportunity of a lifetime to board our luxury helicopter and enjoy our Grand Canyon Helicopter With Skywalk Tour. Experience stunning panoramic aerial views. See the Bypass Bridge and Hoover Dam in ways that no one else has been able to before now. Skip to the front of the line to walk around the iconic Skywalk.
GRAND CANYON HELICOPTER FLIGHT RIM LANDING
Enjoy this spectacular flight into the Grand Canyon on one of our luxurious helicopters. Once you have made your landing on the Grand Canyon's rim, you'll get to spend two hours exploring all of the sites that this area has to offer before heading back into Las Vegas.
GRAND CANYON HELICOPTER FLIGHT RIM LANDING AND SKYWALK
Our state of the art and luxury helicopters enable you the opportunity to experience the Grand Canyon in a way that few others have. We aim to provide you with a journey unlike any other that you've ever taken and leave you with memories that you will not soon forget.
GRAND CANYON HELICOPTER FLIGHT
When it comes to seeing the Grand Canyon from a bird's eye view, the Grand Canyon Below the Rim Helicopter Air Tour offers a once in a lifetime experience. We'll transport you in our luxurious Mercedes-Benz Sprinter to and from our private helicopter touring facilities to begin your Grand Canyon Helicopter Flight.
GRAND CANYON SUNSET HELICOPTER FLIGHT
Enjoy flying through the Grand Canyon at lower level in our state of the art equipment. Get close up to fascinating landmarks such as Lake Mead, Grand Canyon's West Rim and Hoover Dam.
---
5 Star Helicopter Tours should definitely be on your check list as a thing to do in Las Vegas! This luxurious first class helicopter tour company presents breathtaking aerial adventures at affordable prices for individuals, couples and families.
Each of their flight packages also offer 180 degree unrestricted panoramic views of the most amazingly photographic and stunning natural and man-made wonders in and near Las Vegas.
Depending on the helicopter tour you chose, you may be treated to scenic southwest sites such as:
Bypass Bridge
Valley of Fire
Neon Lights of Las Vegas Strip
Lake Mead
Plus, complimentary luxury transportation accommodations are provided between Las Vegas Resort Hotels and 5 Star Helicopter Tours' air terminal facilities located in Boulder City and North Las Vegas Executive.
Looking for a little more glitz and/or adventure? You can always upgrade your chosen tour package for an even more memorable and unique personal experience.