The Best Hotels, Restaurants, and Things to Do in Las Vegas for Independence Day 2020
Fourth of July in Las Vegas will undoubtedly look different this year. While patriotic firework displays have drawn crowds of up to 300,000 people in the past, special considerations must be made in 2020 to prevent the spread of the novel coronavirus in Las Vegas.
Although this year's Independence Day celebrations might be a little out of the ordinary, there's nothing stopping visitors and locals from having a great time. Pack your bags and get ready for an unforgettable Fourth of July weekend in Las Vegas. We've compiled a list of the best places to stay, restaurants to try, and things to do.
Where to Stay
Luckily this year the Fourth of July falls on a Saturday, which can only mean one thing—weekend getaway! There are tons of great hotels to stay at on the Las Vegas Strip and Downtown. Check out our top three picks for the holiday.
ARIA
Rooms from $249 per night
We are excited to announce that the ARIA resort and casino will be reopening on July 1 just in time for Independence Day. ARIA, opened in 2009, ushered in a new era of luxury resorts in Las Vegas. This AAA Diamond-awarded resort located inside City Center offers unparalleled amenities and top-notch service. With complimentary self-parking, contactless mobile check-in options, and a commitment to employee and guest safety, ARIA is ready to welcome back visitors.
During your stay, go for a dip in one of ARIA's three ellipse-shaped pools, where you can also relax in one of their lounge chairs or your own private cabana. Grab a day pass at the Spa at ARIA for access to the Shio Salt Room, Ganbanyoku heated stone beds, the outdoor therapy pool, and more.
Mandalay Bay
Rooms from $224 per night
Mandalay Bay will also make a comeback starting on July 1, reopening for the first time to the public since the hotel shut down in mid-March. In addition to free self-parking and mobile check-in, you'll be able to test your luck at the poker tables or one of more than 1,200 slot machines on the casino floor.
You'll also have access to the Mandalay Bay Beach, including the Lazy River, a real sand beach, a lagoon, and cabanas, bungalows, and daybeds galore. Refresh and revitalize at the Mandalay Spa in their redwood sauna, heated whirlpools, or eucalyptus steam room. Salon Mandalay will also offer hairstyling, makeup, and waxing services.
Not to mention, no stay at the Mandalay Bay would be complete without a trip to the Shark Reef Aquarium.
The D
Rooms from $154 per night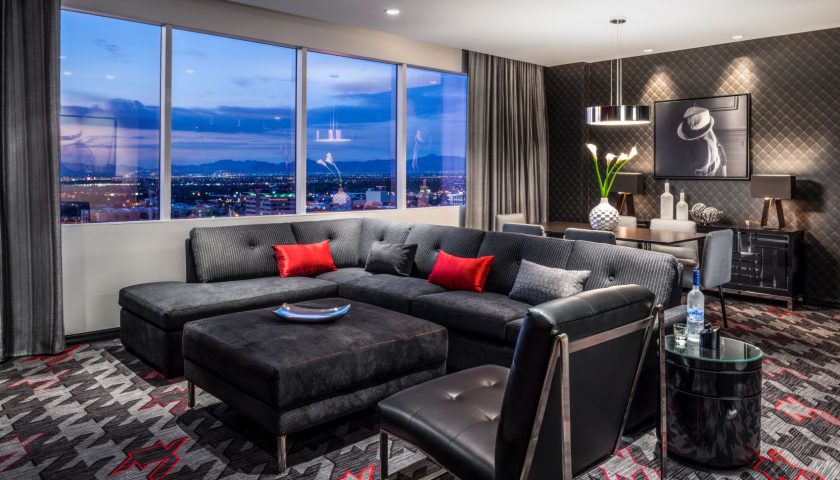 The D is a swanky little gem hidden in Downtown Las Vegas. If you feel like you've done and seen everything there is to see on the Strip, make your way to Fremont Street for this delightful hotel and casino. Do yourself a favor and splurge for one of the D Suites. A king-sized bed with glittering views of buzzy Downtown, retro wood paneling, three TVs, and a luxurious walk-in shower awaits you.
The D Pool is open to escape the summer heat and the nearby Golden Nugget and El Cortez offer additional opportunities to try your luck at slots and table games, while Fremont Street is an amazing visual and audio spectacle in and of itself. Be sure to check out the live street music and newly-revamped Viva Vision canopy.
Where to Eat and Drink
Let's be honest, half the fun of Independence Day is all the delicious American food. Las Vegas does not disappoint when it comes to getting your food and booze on. These bars and restaurants are sure to satisfy.
Wynn Buffet
While every other buffet on the Strip has shuttered, the Buffet at Wynn is spearheading a newer, safer way to experience buffet dining in the time of COVID-19. With tableside service, you still get the same 90 all-you-can-eat choices including prime rib, honey-glazed cornbread, 3-cheese mac and cheese, and all-American desserts like apple pie, New York cheesecake, and strawberry shortcake. Reservations are recommended.
Grab a drink at the nearby Parasol Down and enjoy the musical and visual spectacle of the Lake of Dreams.
American Coney Island
Conveniently located inside the D Hotel, American Coney Island is actually a transplant from Detroit, but it definitely replicates the charm of New York's Coney Island. Hot dogs are an American classic, and this restaurant serves them up 24/7. Dearborn sausage is smothered in chili sauce and topped with mustard and sweet chopped onions, all wrapped up in a delicious steamed bun. You can even take it to go while you immerse yourself in the Fremont Street Experience.
Holsteins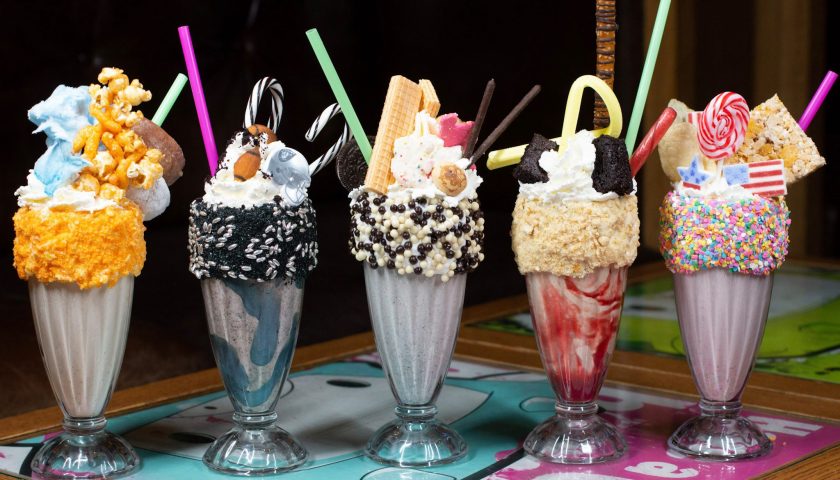 If burgers and boozy milkshakes are your thing, Holsteins inside the Cosmopolitan is the one place you need to visit this Fourth of July in Las Vegas. Studded with life-size neon pink cows and funky local art, Holsteins is a great place to kick back with friends or family.
Try the Gold Standard, a dry-aged beef sirloin burger with smoked bacon, aged goat cheddar cheese, tomato confit, baby arugula, and garlic-chive aioli. Pair with a cookie and cream shake infused with Pinnacle whipped cream vodka for the perfect meal. Reservations are recommended—call 1-877-893-2001 to book your table.
What To Do
Massive pool parties and close-knit parades won't make an appearance this year for the Fourth of July in Las Vegas, but there's still plenty of fun things to do throughout the weekend.
Watch Fireworks at the Plaza
Saturday, July 4 at 10:00 p.m.
We know what's on your mind: great big Vegas-style fireworks. Many hotels have sadly canceled their firework displays this year, but not all hope is lost—the historic Plaza Hotel will be setting off a brilliant firework show at 10:00 p.m. on Independence Day. Red, white, and blue will light up the sky from the hotel's towers and roof and the show is expected to be visible for miles.
And the Plaza isn't the only hotel planning a fireworks show. Henderson will continue its yearly Star-Spangled Sky show from four launch points at Green Valley Ranch Resort, Lake Las Vegas, M Resort, and Legacy Golf Club.
See the City from a Whole New Perspective
Flights from $99
Do something different this Fourth of July with a thrilling excursion over the Las Vegas Strip with 5 Star Helicopter Tours. See Sin City like you've never seen it before with daytime and nighttime flight tours. You can also do a flyover tour of the Grand Canyon and Valley of Fire. This is one experience you don't want to miss while you're in Las Vegas!
Laugh at the Delirious Comedy Club
Reopens July 2
Shows at 8:00 p.m. & 10:00 p.m.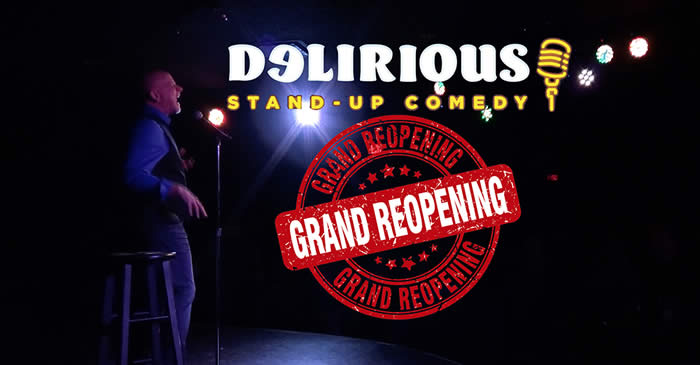 We could all use a laugh after the last few months. At the newly-reopened Delirious Comedy Club inside the Downtown Grand Hotel, you can enjoy side-splitting comedy plus food and drink specials starting Fourth of July weekend. Featured comedians include Las Vegas headliner Don Barnhart and Derek Richards. Social distancing and other safety protocols will be in place to protect guests and follow CDC guidelines.
There's Always Something to Do in Las Vegas
Whether you're spending the Fourth of July in Las Vegas or planning your Las Vegas hen night, there is always something great to do here. For more ideas on how to plan your next vacation, check out our great hotel deals, family-friendly activities, and where to get the best liquor in town.