Grand Canyon Helicopter With Skywalk
GRAND CANYON FLIGHT & BLACK CANYON RIVER RAFTING ADVENTURE Grand Canyon Flight and Black Canyon River Rafting Adventure includes, aerial views of incredible Hoover Dam, Bypass Bridge and Mojave Desert an Extensive helicopter flight below the rim of the Grand Canyon with views of the mighty Colorado River and a narrated river-rafting adventure on the Colorado River's Black Canyon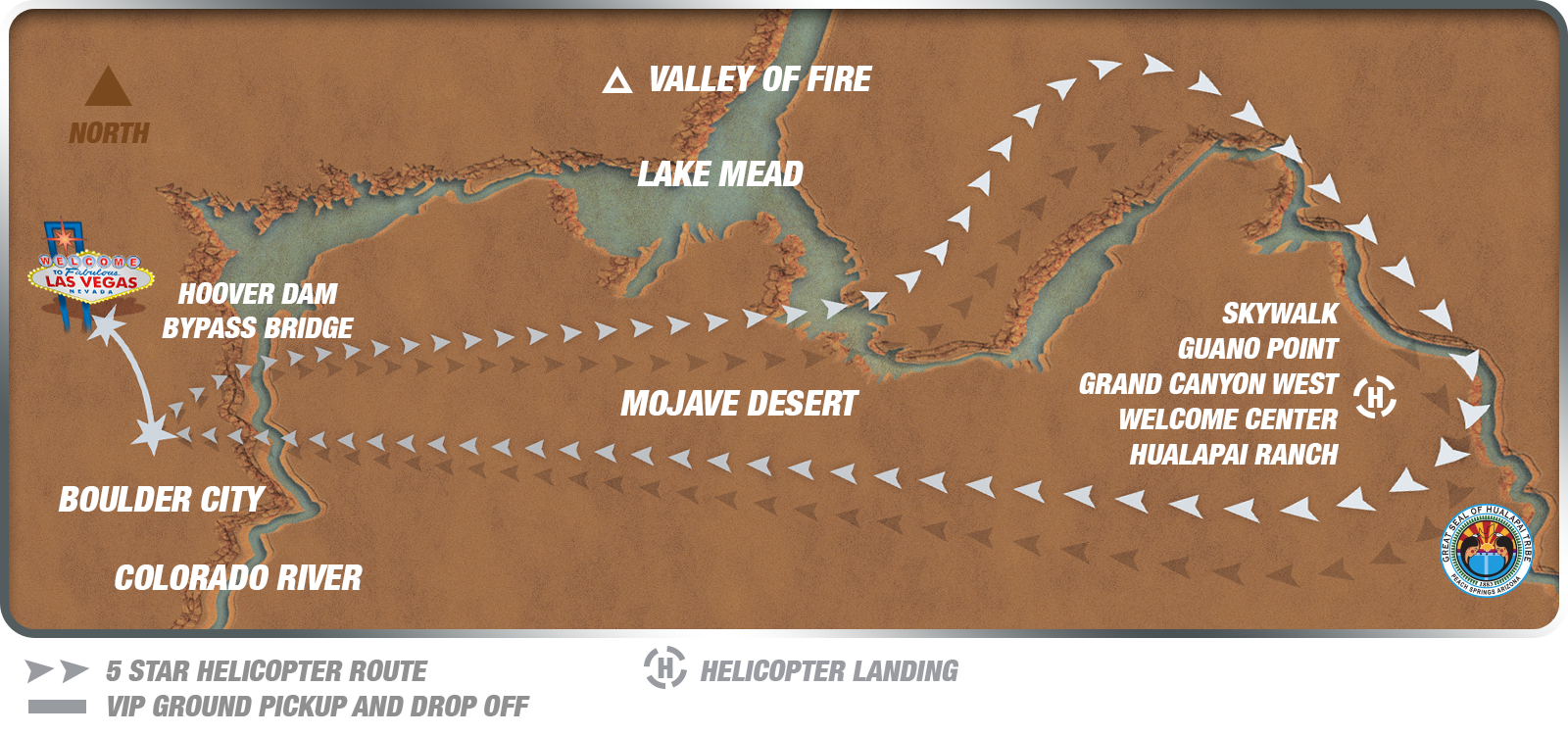 ---
Times and Location
Flight Time: Approximately 70 minutes
Tour Duration: Approx. 9 hrs. hotel to hotel
Destination: Grand Canyon & Black Canyon
RAFTING TOUR DATES
Operates Daily from 3/1/2016 through 11/30/16.
Operates Wednesdays and Saturdays only from 12/1/16 through 2/28/17.
Closed: Thanksgiving Day, Christmas Day, and New Year's Day
Details
Grand Canyon Helicopter Flight & Black Canyon River Rafting Adventure Day Tour Highlights include:
Aerial views of incredible Hoover Dam, Bypass Bridge and Mojave Desert, also
Extensive helicopter flight below the rim of the Grand Canyon with views of the mighty Colorado River, also
In-flight Pilot tour commentary and narration, also
Full-day narrated river-rafting adventure on the Colorado River's Black Canyon, also
Rare views of the base of the Hoover Dam and Bypass Bridge, also
Spectacular sightseeing on calm waters while you float down the Colorado River, also
Boxed lunch served on a secluded Colorado River beach, also
Water available throughout your River Raft Float Tour, also
Once in a lifetime photo opportunities, also, also
Approx. 30 minute landing at Grand Canyon West, also
Luxury Mercedes-Benz Motorcoach, also
Las Vegas Area Hotel and Resort Pickup and Drop-off
December 1st through February 29th 2016
Operates Wednesday and Saturday only.
Tour Duration: Approx. 9 hrs. hotel to hotel Flight Duration: Approx. 70 min.
Description
Board a 5 Star Grand Canyon helicopter, specifically designed with forward-facing seats and 180 degree of unrestricted panoramic viewing. Your highly trained Pilot will provide informative commentary and narration as you experience spectacular aerial views of the magnificent Hoover Dam, Bypass Bridge and Black Canyon. Fly past the extinct and colorful volcano – Fortification Hill. You will then descend into the depths of the Grand Canyon, as you soar like a golden eagle over the mighty Colorado River past geological rock formations that span millions of years – around every corner are cathedral buttresses, pillars with amazing natural vivid colors. After leaving the Grand Canyon, your return flight will include other natural wonders, including panoramic views of rock formations of the rugged Mojave Desert wilderness.
Upon landing back at Boulder Airport, you will take a short drive down to the Colorado River, where you will arrive at the launch area at the base of the amazing Hoover Dam and the newly constructed Bypass Bridge. You will board a large, comfortable river raft and meet your friendly and informative Guide. The Black Canyon's high walls will leave you breathless, so remember to bring your camera! You may spot desert big horn sheep, osprey and great blue heron in their natural setting. The raft stops along the secluded beaches of the Colorado River to give you a chance to swim, or paddle in the cool clear waters.
Black Canyon
You could take this opportunity to enjoy the picnic box lunch, while watching and listening to the sights and sounds of this magnificent Black Canyon, and the surrounding desert. Your trip ends on the Arizona side of the river at Willow Beach, where you will have the chance to shop for distinctive souvenirs of your trip, before returning to your Las Vegas hotel.
Bonus Grand Canyon West Landing: Tour includes an approximately 30 minute landing at Grand Canyon West Airport, with time to explore the Hualapai Indian Gift Shop, where you can purchase Grand Canyon West and Skywalk memorabilia, jewelry, and other items crafted by Native American artisans, and mementos from the Old West.
We pride ourselves on providing our clientele with a once in a lifetime experience that they will be more than happy to tell their friends and family members about. Our tours include Mercedes-Benz ground transportation that whisks you to and from our private facilities and allows you to travel in the lap of luxury.
---
Note:
COMFORT & SAFETY – Passengers exceeding 275 lbs / 123 kg. will be required to purchase an additional seat at 100% of the applicable retail price. Due to weight restrictions seat assignments cannot be guaranteed. Passengers exceeding stated body weights may-be off-loaded at the time of check-in. Reserve tours one day to one year in advance.
For tours booked the night before travel or the same day please call to make your reservation.
In Las Vegas, as in other parts of the world, tipping is customary and accepted. We feel it is a private matter and it is not included in the cost of our tours.
Book Now