Grand Canyon Helicopter Flight with Rim Landing and Skywalk
Our state of the art and luxury helicopters enable you the opportunity to experience the Grand Canyon in a way that few others have. We aim to provide you with a journey unlike any other that you've ever taken and leave you with memories that you will not soon forgot.
This is one of our popular helicopter flights to the Grand Canyon. You'll soar over the long and winding Colorado River as you admire all the geological rock formations that have spanned for millions of years. Our next stop is the Grand Canyon's West Rim Airport, where a shuttle van will transfer you to the World Famous Skywalk. A special pass whisks you directly to the front of the line.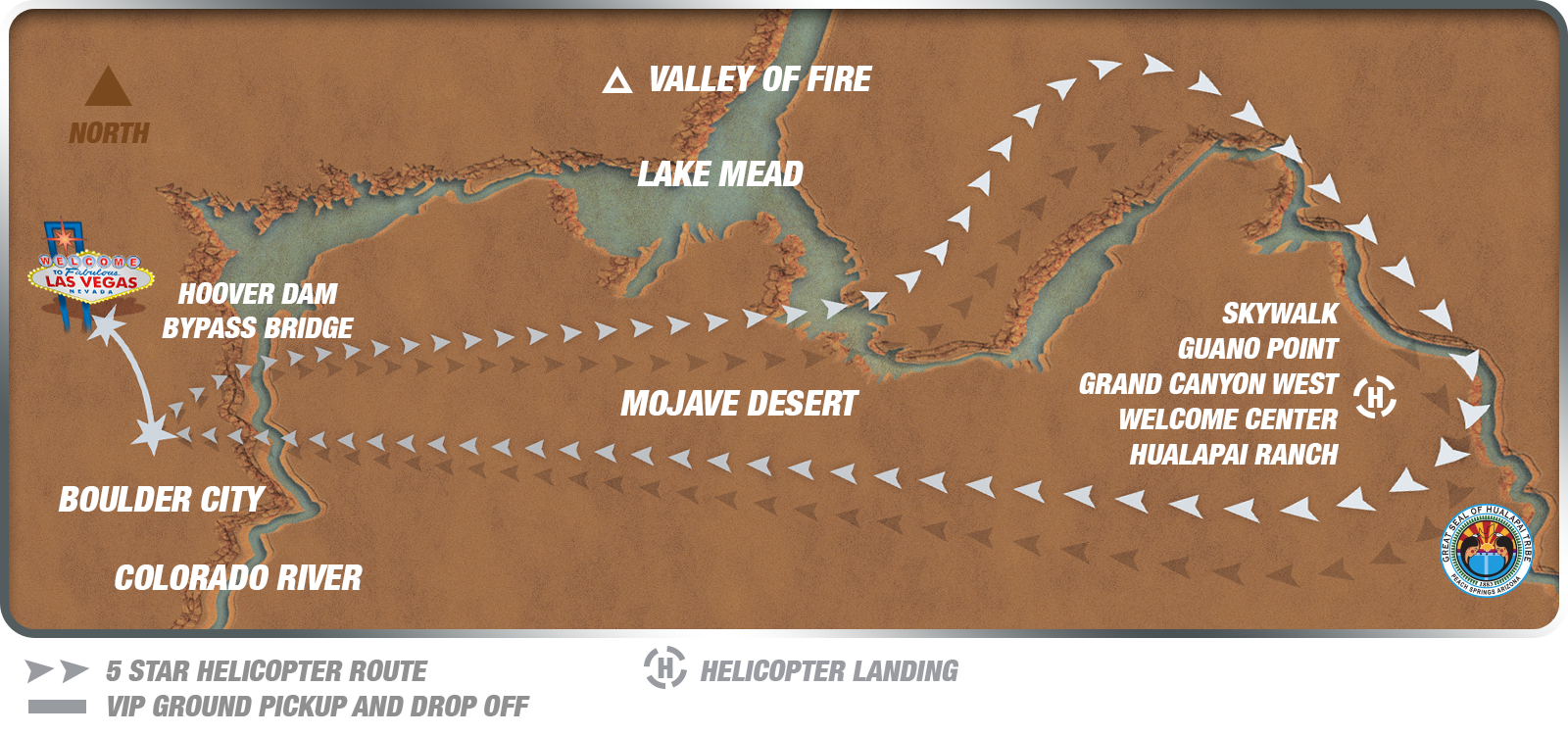 ---
Times and Location
Flight Time: Approximately 70 minutes
Tour Length: Approximately 4 hours
Skywalk; Approximately 30 minutes
Departing: Las Vegas
Destination: Grand Canyon
Details
Aerial views of the incredible Hoover Dam, Bypass Bridge and Mojave Desert, also
Extensive helicopter flight below the rim of the Grand Canyon with views of the Colorado River, also
In-flight Pilot tour commentary and narration, also
2 hour landing at Grand Canyon West, also
Hualapai Legacy Package, also
Hop-On- Hop-Off Shuttle Bus to Hualapai Ranch, Eagle Point & Guano Point, also
Once-in- a-lifetime photo opportunities of the scenic West Rim, also
Mercedes Motorcoach Las Vegas area Hotel Pickup & Drop-Off, also
Complimentary refreshments at our luxury air terminal, also
Includes Skywalk
Description
Our itinerary takes you past the winding Colorado River, where you are offered the unique chance to take a much closer look at a wide range of geological rock formations that have been in existence for millions of years.
After you have exited the Grand Canyon, it is then time for you land at the Grand Canyon's West Rim Airport. From there, a shuttle van will provide with an expeditious transfer to the canyon's World Famous Skywalk.
Our clients are provided with a specialized front of the line pass. You don't have to wait in long and hot lines. Instead, the tour whisks you directly to the head of the group. This is just one of the many benefits of our services and we are more than happy to provide you with thoughtful additions like this one that are designed to enhance your enjoyment and keep your stress levels low throughout the course of your trip.
Skywalk
The Skywalk itself is one of the more unique experiences that you will have the chance to enjoy. This bridge serves as a great way to test your wits and your mettle. While this bridge may be somewhat intimidating to travelers, there is no reason to fear, as it is designed to provide a nerve wracking experience while also serving as a valuable reminder of the Grand Canyon's natural beauty.
Once you have arrived at the Skywalk, you are then given the opportunity to step onto the bridge itself, which is completely transparent and stands 4,700 feet high. It is designed in the same shape as a horseshoe and the bridge also extends a whopping 70 feet from the edge of the Grand Canyon itself. As you make your way across the Skywalk, you will have the unique experience of taking in awe inspiring views of the mighty Colorado River, in addition the west rim of the Grand Canyon itself.
There is nothing quite like it and there is no feeling to compare this moment to. You will simply have to see it for yourself, live and in person.
Your tour will also include approximately 30 minutes of time that you are allowed to spend at the Skywalk plus you will also receive a professional photograph of your adventure. It bears noting that these souvenir photographs are limited to one per person.
When it comes to appreciating the Grand Canyon and its Skywalk in all of its splendor, there is no substitute for the experience that we are able to provide for you. We have considered every possible aspect of your journey and we implore you to sit back, relax and allow us to handle all of your needs so that you can focus on enjoying your trip.
---
Note:
COMFORT & SAFETY – Passengers exceeding 275 lbs / 123 kg. will be required to purchase an additional
seat at 100% of the applicable retail price. Due to weight restrictions seat assignments cannot be
guaranteed. Passengers exceeding stated body weights may-be off-loaded at the time of check-in.
Reserve tours one day to one year in advance.
For tours booked the night before travel or the same day please call to make your reservation.
In Las Vegas, as in other parts of the world, tipping is customary and accepted. We feel it is a private
matter and it is not included in the cost of our tours.