Grand Canyon Helicopter Flight with Rim Landing
Enjoy this spectacular flight into the Grand Canyon on one of our luxurious helicopters. Once you have made your landing on the Grand Canyon's rim, you'll get to spend two hours exploring all of the sites that this area has to offer before heading back into Las Vegas.
Enjoy stunning aerial views of the west rim from our helicopters. Even if you have seen the Grand Canyon before, we know that you have never seen it like this!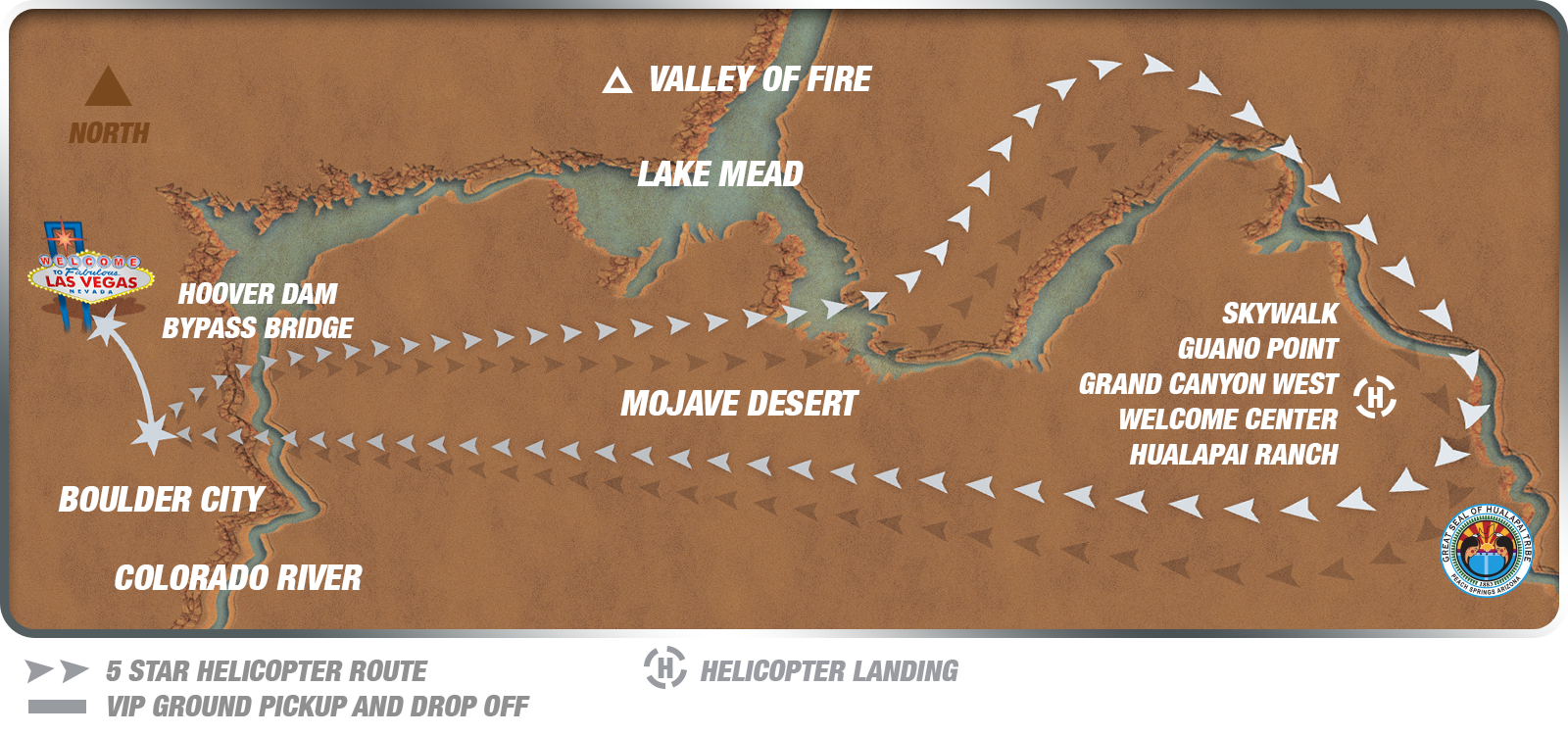 ---
Times and Location
Flight Time: Approximately 70 minutes
Tour Length: Approximately 5 hours
Departing: Las Vegas
Destination: Grand Canyon
Details
Aerial views of the incredible Hoover Dam, Bypass Bridge and Mojave Desert
Extensive helicopter flight below the rim of the Grand Canyon with views of the Colorado River
In-flight Pilot tour commentary and narration
2 hour landing at Grand Canyon West
Hualapai Legacy Package
Hop-On- Hop-Off Shuttle Bus to Hualapai Ranch, Eagle Point & Guano Point
Once-in- a-lifetime photo opportunities of the scenic West Rim.
Mercedes Motor coach Las Vegas area Hotel Pickup & Drop-Off
Complimentary refreshments at our luxury air terminal
Description
When you board our luxury helicopters, one of the first things that you will notice is that they have been specifically designed to provide you with maximum comfort and zero sacrifices.
Your seats face forward and you get to enjoy 180 degrees of panoramic viewing in a manner that is completely unrestricted. Our pilot are well trained in the art of providing useful narration about each of the landmarks that you see. This allows you to learn facts that you were previously unaware of. Passengers are able to experience a fascinating array of spectacular aerial views of Bypass Bridge, Hoover Dam and Black Canyon. From there, you will fly past Fortification Hill, a dormant and colorful volcano.
Once this part of the journey has been completed, it is then time to make your downward descent into the Grand Canyon. Soar like a raven over the Colorado River and float past a series of geological rock formations that were formulated million and millions of years ago.
After landing on the Grand Canyon's rim, passengers are allowed to leave the aircraft and begin their explorations of this area. There are no shortage of panoramic views to take in when you are at the western rim and you will also have the chance to catch a closer glimpse of the Colorado River.
Hop On, Hop Off
Thanks to our Hop On Hop Off Shuttle rides, you are transported from your landing point to a variety of other areas, including a wide range of Grand Canyon Western Rim viewing areas which includes Guano Point and Eagle Point.
We believe in allowing all of our passengers to explore as much of the Grand Canyon as possible during their trip. While the Grand Canyon is certainly much too large for anyone to see all of it in just one trip, we pride ourselves on making ourselves available to those who are in search of assistance when it comes to exploring areas of the Grand Canyon that are not often visible to the naked eye.
After you have departed from the Grand Canyon, your return trip to Las Vegas will include a number of other breathtaking natural wonders that most never get the chance to see, including panoramic views of Mojave Desert rock formations that are hiding in plain sight out in the wilderness. This desert will appear to be barren from afar, but thanks to our skilled pilots, you are able to see them in their truest form.
---
Note:
COMFORT & SAFETY – Passengers exceeding 275 lbs / 123 kg. will be required to purchase an additional
seat at 100% of the applicable retail price. Due to weight restrictions seat assignments cannot be
guaranteed. Passengers exceeding stated body weights may-be off-loaded at the time of check-in.
Reserve tours one day to one year in advance.
For tours booked the night before travel or the same day please call to make your reservation.
In Las Vegas, as in other parts of the world, tipping is customary and accepted. We feel it is a private
matter and it is not included in the cost of our tours.