Grand Canyon Helicopter Flight
When it comes to seeing the Grand Canyon from a bird's eye view, the Grand Canyon Helicopter Tour offers a once in a lifetime experience. Another great thing: we'll transport you in our luxurious Mercedes-Benz Sprinter to and from our private helicopter touring facilities to begin your Grand Canyon Helicopter Flight.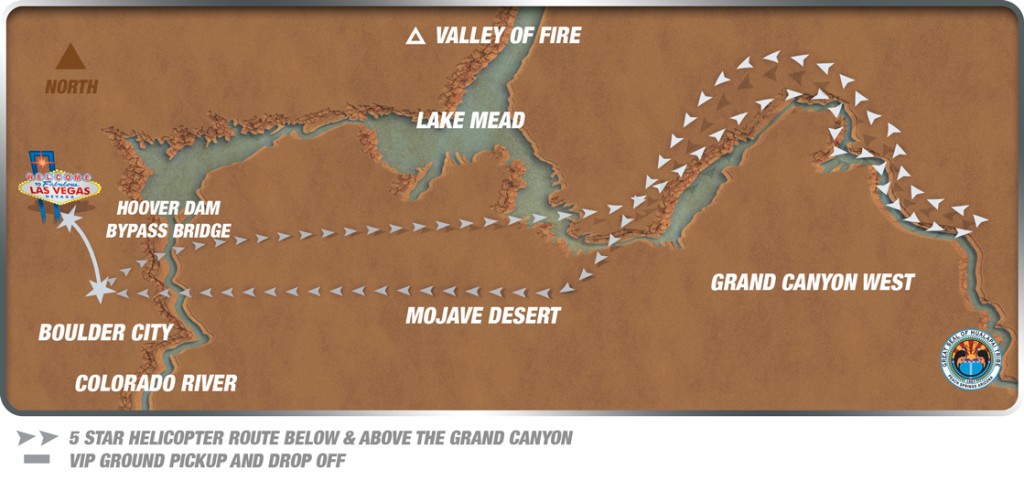 ---
Times and Location
Flight Time: Approximately 70 minutes
Tour Length: Approximately 4 hours
Departing: Las Vegas
Destination: Grand Canyon
Details
In-flight Pilot tour commentary and narration, also
Once in a lifetime photo opportunities, also
Approx. 30 minute landing at Grand Canyon West Airport, also
Luxury Mercedes-Benz Motor coach Las Vegas Area Hotel and Resort Pickup and Drop-off, also
Choice of morning or afternoon departure times, also
Lastly, Helicopter departing from Boulder City Airport only 35 min. from the Las Vegas Strip Tour, also
Duration: Approx. 4 hrs. hotel to hotel Flight Duration: Approx. 70 min. Also Note: Grand Canyon
West Airport is located 2 miles from the rim of the Grand Canyon.
Description
Travel in true style and also luxury to see one of the great Natural Wonders of the World. Furthermore, our Grand Canyon Helicopter Flight will give you an aerial view of the Canyon only seen by a few lucky people.
So enjoy the tour while aboard our luxury helicopter! Our helicopters have also been specifically designed to enhance your overall comfort. Also, the forward facing seats help you relax. They also give you access to view 180 degrees of unrestricted panoramic pleasure. It's an almost perfect view.
Pilots narrate the entire flight with informative commentary about the historical landmarks that you'll see along the way. Most important of all, aerial views of the Bypass Bridge, the magnificent Hoover Dam and Black Canyon are just a few of the landmarks you see and hear about from our knowledgeable pilots.
Next, fly over Fortification Hill an extinct and colorful volcano. While you'll descend into the deepest depths of the Grand Canyon, take tons of pictures. Soar like a eagle over the long and winding Colorado River, past a series of geological rock formations that have spanned for millions of years.
Finally, your return flight back to Las Vegas will take you over more fascinating rock formations and desert like topography before flying over the Las Vegas Strip.
---
Note:
COMFORT & SAFETY – Passengers exceeding 275 lbs / 123 kg. will be required to purchase an additional
seat at 100% of the applicable retail price. Due to weight restrictions seat assignments cannot be
guaranteed. Passengers exceeding stated body weights may-be off-loaded at the time of check-in.
Reserve tours one day to one year in advance.
For tours booked the night before travel or the same day please call to make your reservation.
In Las Vegas, as in other parts of the world, tipping is customary and accepted. We feel it is a private
matter and not included in the cost of our tours. Our Grand Canyon Helicopter Flight will leave you feeling you're glad you booked this tour.