Grand Canyon Helicopter With Skywalk
We offer you the opportunity of a lifetime to board our luxury helicopter and enjoy our Grand Canyon Helicopter With Skywalk Tour. Experience stunning panoramic aerial views. See the Bypass Bridge and Hoover Dam in ways that no one else has been able to before now. Skip to the front of the line to walk around the iconic Skywalk.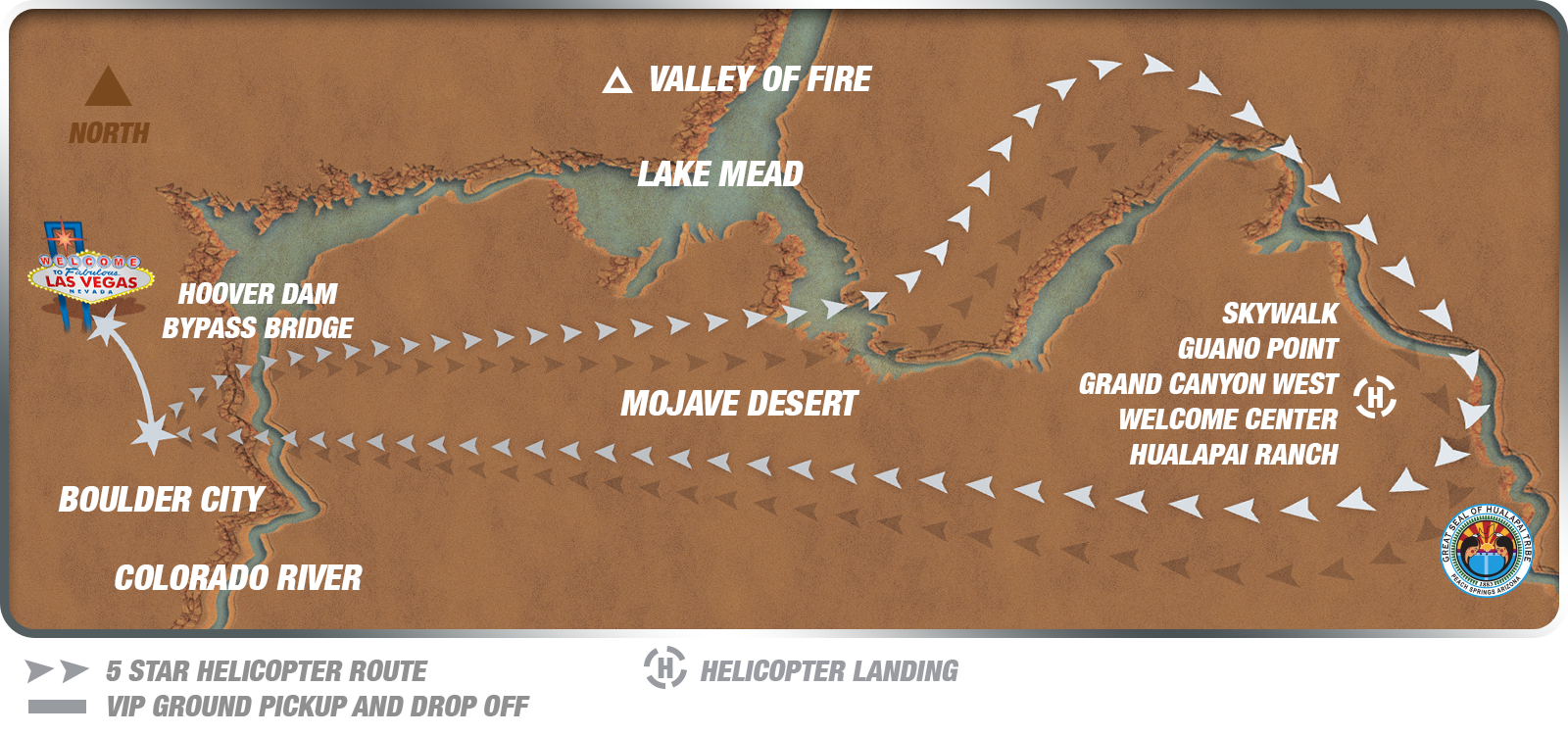 ---
Times and Location
Flight Time: Approximately 70 minutes
Tour Length: Approximately 4 hours
Skywalk; Approximately 30 minutes
Departing: Las Vegas
Destination: Grand Canyon
Details
BOARD A LUXURYHELICOPTER FOR PANORAMIC AERIAL VIEWS OF THE HOOVER DAM & BYPASS BRIDGE BEFORE DESCENDING BELOW THE RIM OF THE GRAND CANYON AND THE LANDING AT THE GRAND CANYON WEST AIRPORT FOR FRONT-OF- THE-LINE ACCESS TO THE SKYWALK!
Grand Canyon Skywalk Express Tour Highlights:
Views of Hoover Dam, the Bypass Bridge, Fortification Hill & colorful Mojave Desert Helicopter flight below the Rim of the Grand Canyon with views of the mighty Colorado River Land on the rim of the Grand Canyon where your Skywalk shuttle awaits Picnic style snacks Front of the line access to the Skywalk Professional souvenir, also
Skywalk photo for each person included Round-trip van ride from the helipad to the Skywalk, also
In-flight Pilot tour commentary & narration, also
Once-in- a-lifetime photo opportunities Luxury Mercedes-Benz Motorcoach Las Vegas Area Hotel and Resort Pickup and Drop-off Complimentary drinks at our private helicopter tour facility Tou, also
Duration: Approx. 4 hrs. hotel to hotel Flight Duration: Approx. 70 min. Time At Skywalk: Approx. 30 min.
Description
Firstly, this tour of the Grand Canyon offers you the opportunity to see one of the most beloved natural wonders of the world.
Board our luxury helicopter for the trip of a lifetime. Designed to offer maximum level of comfort, the forward-facing seats also give you 180 degrees of unrestricted panoramic views.
Our pilots have been trained to provide informative narration and commentary regarding the historical landmarks that you'll pass along the way. Experience aerial views of the Black Canyon, Bypass Bridge and also Hoover Dam, while also receiving interesting factoids about each of these areas.
Pass over Fortification Hill before descending into the Grand Canyon. Reach areas of the canyon that most never get the chance to explore.
Soar over the mighty Colorado River and feast your eyes on unusual and beautiful geological rock formations that have been in existence for several million years.
As we head back to Las Vegas you'll also see a series of natural wonders that are bound to take your breath away. See natural cathedral buttresses colorful pillars carved by the natural elements of wind and rain.
Lastly, as we head back to Las Vegas we fly over the Las Vegas Strip, one last opportunity to photograph Sin City from a rarely seen view.
---
Note:
COMFORT & SAFETY – Passengers exceeding 275 lbs / 123 kg. will be required to purchase an additional
seat at 100% of the applicable retail price. Due to weight restrictions seat assignments cannot be
guaranteed. Passengers exceeding stated body weights may-be off-loaded at the time of check-in.
Reserve tours one day to one year in advance.
For tours booked the night before travel or the same day please call to make your reservation.
In Las Vegas, as in other parts of the world, tipping is customary and accepted. We feel it is a private
matter and it is not included in the cost of our tours.