Grand Canyon Sunset Helicopter Flight
Enjoy flying through the Grand Canyon at lower level in our state of the art equipment. Get close up to fascinating landmarks such as Lake Mead, Grand Canyon's West Rim and Hoover Dam.
Once you have flown over the western rim of the Grand Canyon, it is time to journey back to Las Vegas. Along the way you'll see more amazing landmarks and natural wonders. On the return trip you'll see the Black Mountains, Grape Vine Mesa, Grand Wash Cliffs, and the Las Vegas Strip. We'll fly right over the the bright lights and roof tops of some of the most iconic casinos.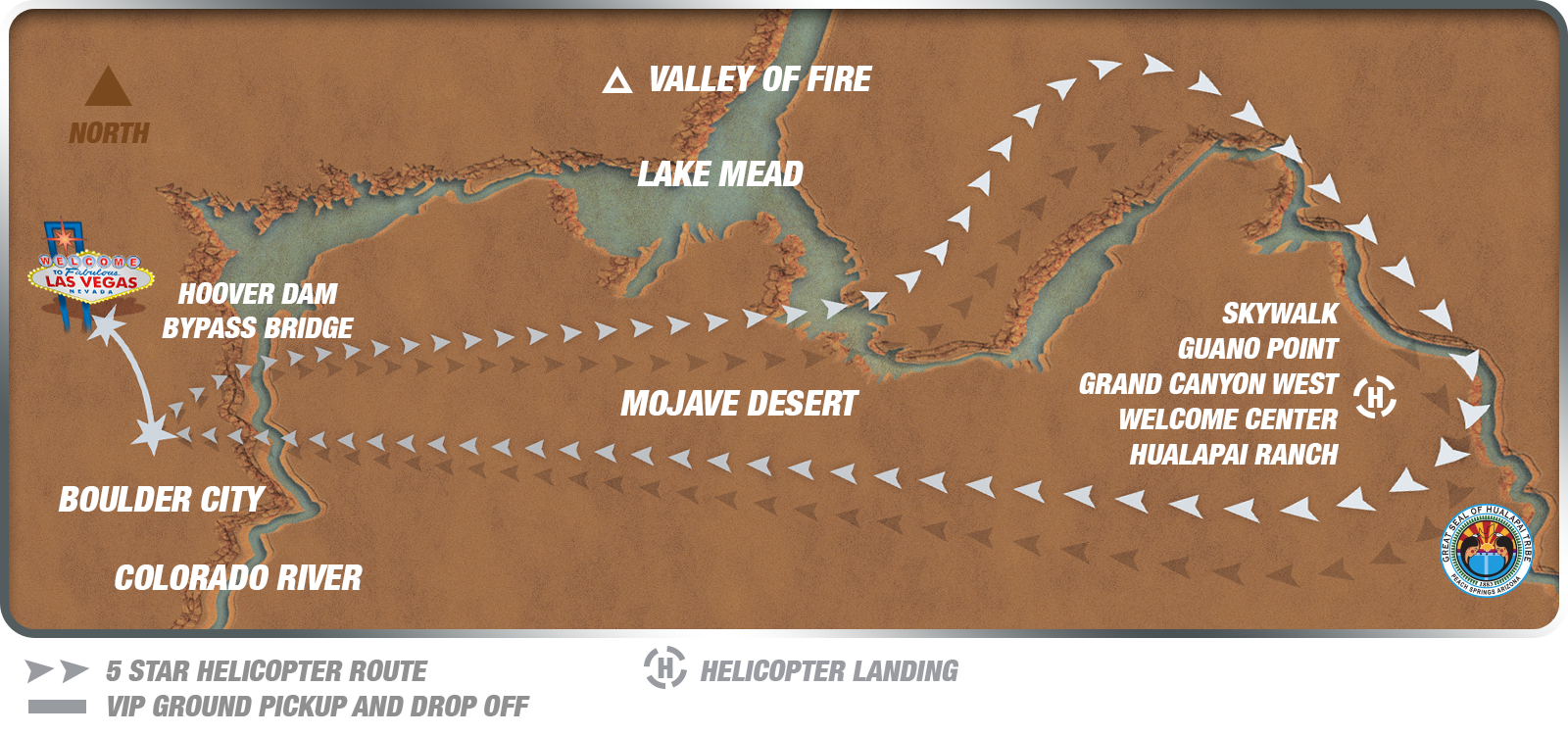 ---
Times and Location
Flight Time: Approximately 90 minutes
Tour Length: Approximately 120 minutes
Departing: Las Vegas
Destination: Grand Canyon
Details
Courtesy premium pickup and drop off. If you are not picked up within five minutes of your pick-up time, do not wait. Please CALL US IMMEDIATELY.
Professional Pilot/Guide
See views of Grand Canyon, Hoover Dam and much more
Las Vegas Strip tour flight on return home
Description
There is nothing quite like a helicopter flight at sunset. Our skilled pilots know exactly what flight paths to take to maximize the sun as it sets on your day.
Set before an orange air brushed back ground Lake Mead, Grand Canyon's West Rim and Hoover Dam all take on a different beauty.
Our luxury helicopters are no doubt the best way to experience The Grand Canyon Sunset Helicopter Flight. Visiting the Grand Canyon is a must if you've never been there before. Be able to say you were one of the 5 million visitors yearly that come to witness millions of years of geological history.
Then there's Lake Mead, the nation's largest man made lake by water capacity. Jagged mountain ranges surround the lake, offering a scenic backdrop, especially at sunset. Next you'll see Hoover Dam. Named after President Herbert Hoover this engineering marvel is a must see. It's construction was the result of a massive effort involving thousands of workers, and cost over one hundred lives.
As we return to Las Vegas we pass over Grapevine Mesa, Grand Wash Cliffs and finally arrive over the Downtown Freemont area and the famous Las Vegas Strip. Home to many iconic Casino's and Hollywood movies, viewing these iconic landmarks from the air is certainly a view not everyone is privileged enough to experience.
This truly is one of the best tours to experience in Las Vegas. From start to finish this tour will leave you with an appreciation of the Grand Canyon and Las Vegas.
---
Note:
COMFORT & SAFETY – Passengers exceeding 275 lbs / 123 kg. will be required to purchase an additional
seat at 100% of the applicable retail price. Due to weight restrictions seat assignments cannot be
guaranteed. Passengers exceeding stated body weights may-be off-loaded at the time of check-in.
Reserve tours one day to one year in advance.
For tours booked the night before travel or the same day please call to make your reservation.
In Las Vegas, as in other parts of the world, tipping is customary and accepted. We feel it is a private
matter and it is not included in the cost of our tours.