The Hoover Damn is an engineering marvel that should not be missed while you are in Las Vegas. Our Hoover Dam Premium Tour is just the tour for you. We will provide you with transportation and everything you'll want to know about Hoover Dam. The Hoover Dam VIP trip offers you the chance to learn more about the rich history of the Hoover Dam. You are given a unique opportunity to take a look at an exclusive film that details the dam's construction and more key facts about the structure are provided throughout the course of your trip.
---
Times and Location
Departing Time: 9:30AM
Duration: Approximately 5.5 hours
Departing: Las Vegas
Destination: Hoover Dam
---
Hoover Dam Experience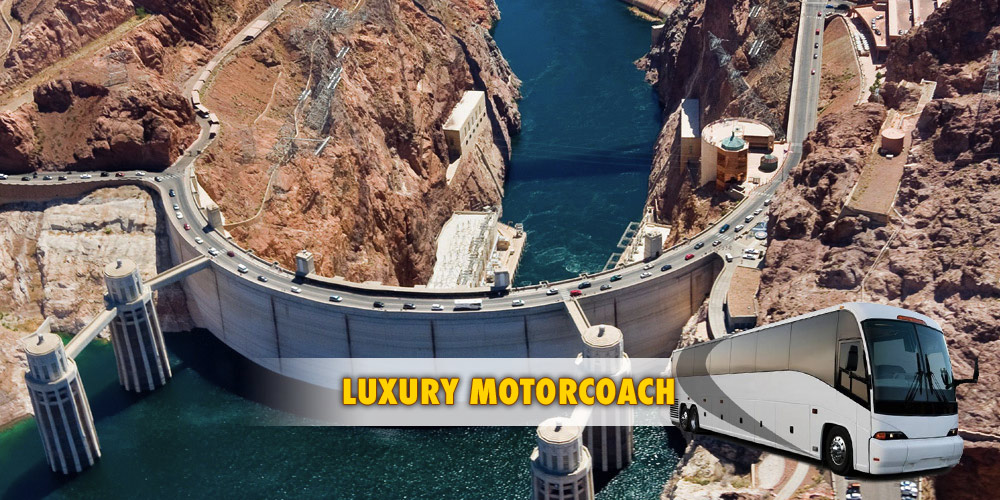 Tour includes: Visit the Hoover Dam and exhibit halls; Walk across the Mike O'Callaghan-Pat Tillman Memorial Hoover Dam Bypass Bridge; Photo opps at Lake Mead and at Colorado River; Hotel pick-up and drop off at Las Vegas hotel; Free WiFi on bus; Free unlimited coffee at check-in; Narrated tour to Hoover Dam.
VIP Hoover Dam Experience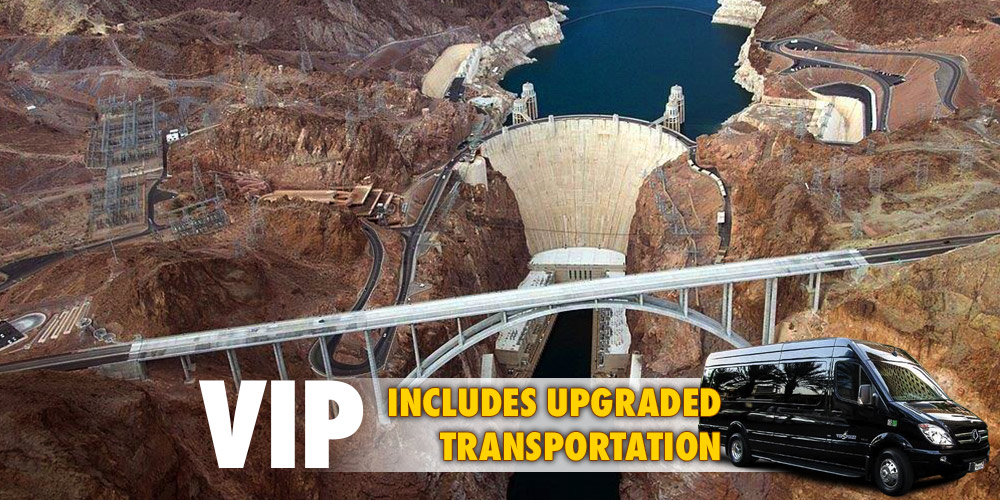 VIP Tour includes: Courtesy premium pickup and drop off; travel in style in a smooth, comfortable upgraded transportation with refreshments and free wifi on board; a personal VIP travel pack; photo opportunities of Lake Mead, Colorado River, Boulder City and Black Canyon; experience the movie, generator room, exhibit halls, observation deck; lunch provided; walk across the Mike O'Callaghan–Pat Tillman Memorial Hoover Dam Bypass bridge; stop at the Las Vegas Welcome sign
Hoover Dam Bus and Boat Tour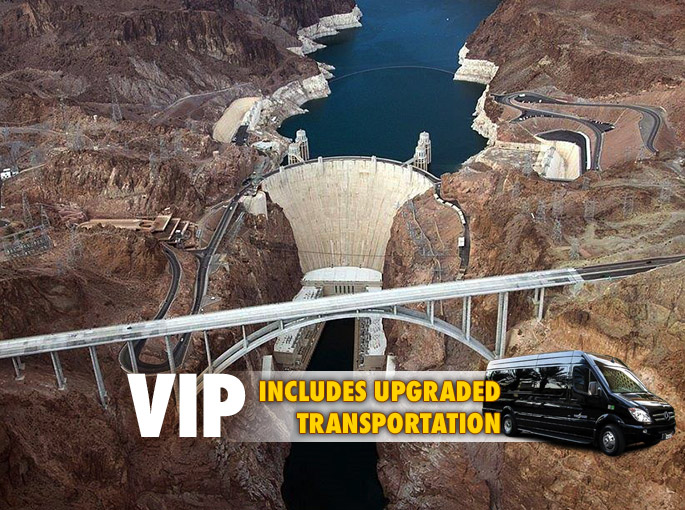 An adventure tour like no other, this trip will take you through the Hoover Dam with views from land and by water. The float trip lasts approximately 30 minutes and gives you spectacular views of the dam. You will also have an hour and a half to explore all that there is to see of the Hoover Dam, including being able to walk across to the Arizona side. Hotel pick-up and drop off; Unlimited coffee at check-in; Narrated tour in deluxe motor coach; Photo opportunities at Lake Mead and Colorado River; 1.5 hours at Hoover Dam with access to observation desk, Visitor's Center, theater, and exhibit rooms; Visit to the Hoover Dam; Float trip down Colorado River; Walk the Mike O'Callaghan-Pat Tillman Memorial Hoover Dam Bypass Bridge
Description
Enjoy a half day tour of the Hoover Dam on this Premium Tour. You'll board a full-size modern tour bus from your Vegas hotel. Your driver/tour guide will then commentate the entire trip discussing details about Las Vegas, Henderson, and Boulder city. A feature video will also be played, showing the construction of the dam so you can learn more about the history and just how impressive the 725 foot tall building really is.
Upon arrival, you will have two full hours to take the elevator to the generator room, walk across the Mike O'Callaghan-Pat Tillman Memorial Hoover Dam Bypass Bridge for amazing views, see the theater, visit the observation deck, and check out all of the different exhibit rooms. You will also have time to explore the museum and check out the visitors center. This is all done at your pace.
During your time, you can also choose to walk across the dam to step foot in Arizona. Works of art will guide your path. Photo opportunities are abundant, and you will be able to visit the gift shop for souvenirs as well as for snacks and drinks.
Once your two hours are up, you'll board the bus and head back to your hotel and get ready for your next adventure.
Need to know
If you have a defibrillator implanted and/or a pacemaker, you will not be able to visit the generator rooms at the bottom of the Hoover Dam
Service dogs may travel as long as correct and current paperwork is submitted
---
Note: