Looking for an unforgettable Las Vegas gun range experience? Look no further than Battlefield Vegas, a totally immersive shooting range unlike any other. Located just a block away from the Las Vegas Strip, this sprawling military-style complex has something for everyone. Find out what makes this one of the best shooting ranges in Las Vegas with these five reasons to spend the day at Battlefield Vegas.
#1: Guns, Guns, and More Guns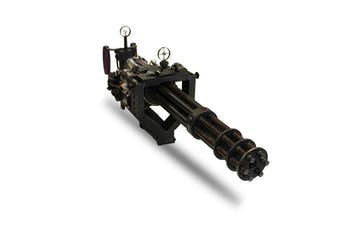 When it comes to their selection of firearms you can shoot, Battlefield Vegas can't be beat. From World War II rifles to modern sniper rifles, Battlefield Vegas has a huge armory of weapons to select from and customize your shooting experience.
Choose from a wide assortment of machine guns, sub machine guns, pistols, grenade launchers, and shotguns, plus the only mini-gun available to the public in Las Vegas. You can browse the online catalog to reserve your preferred weapons ahead of time or check out the armory in person.
For the military history buffs, there are specially-curated Historical Event Packages ranging from a D-Day experience to the Battle of Iwo Jima. If you're not sure which weapons to choose or you're new to military-grade weapons, try the Fan Favorites Package or their Beginner-Friendly Packages.
#2: Outdoor Experiences Unlike Any Other
Battlefield Vegas is so much more than your garden-variety indoor shooting range (although honestly, we could spend all day at their state-of-the-art facility). If you really want to take your Las Vegas gun range experience to the next level, you have to check out one of their many outdoor adventure packages.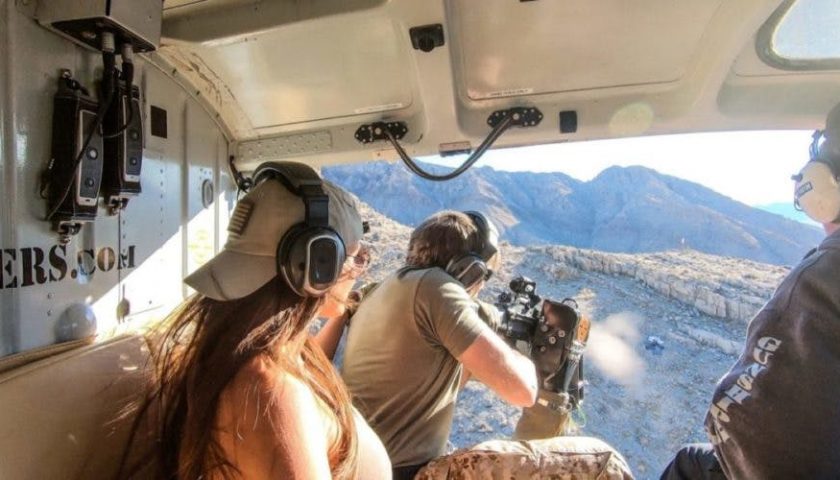 Learn the basics with the Basic Training Outdoor Package, where you'll shoot weapons used on the battlefield during World War II and those used today in the Middle East for a wide range of shooting experiences all in one go. From the M1 anti-tank gun to the M9 flamethrower, this package is anything but basic. You and your guest will be provided with high quality eye and ear protection, transportation, plus snacks and refreshments to refuel.
True adrenaline junkies will enjoy the Air and Ground Assault Outdoor Adventure. You'll start out in the commander position of the M311A2 armored personnel carrier as you make your way through the desert, shooting twenty-five rounds of M2HB. You'll also get behind the Barrett M107 and the M134. For the big finale, you'll take your skills to the sky for a helicopter assault. Strap into the gunner's seat and shoot 200 rounds from an M249 squad automatic weapon.
#3: You Can Crush a Car…With a Tank!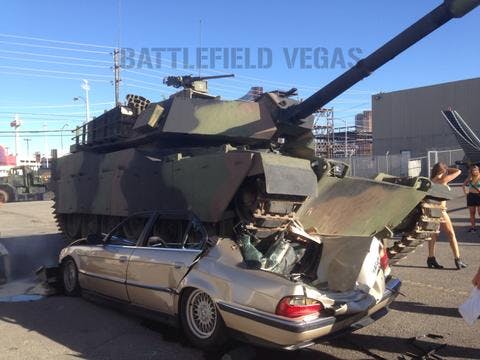 Battlefield Vegas is no one-trick pony. If the thrill of destruction is what you're after, you've got to try crushing a car with a Chieftain Mk8 tank. This tank was once used in actual military service in the U.K., but has since been transformed into an M1A1 replica for Hollywood purposes. In its glorious retirement, this tank gets to crush cars—and you and a friend can put yourself in the driver and passenger seat.
You'll get a safety briefing and some helpful tips for flattening your car into a pancake from the experienced guides at Battlefield Vegas. The Car Tank Crush is a Las Vegas gun range experience like no other, and we guarantee you'll love it.
#4: Battlefield Vegas Throws Awesome Parties
You haven't lived until you've celebrated a milestone at Battlefield Vegas. Bachelor parties, weddings, gender reveals, corporate events—they do it all, with explosive fun and impeccable service. Food, drinks, and banquet seating are available, plus DJs and transportation to the venue.
Battlefield Vegas also offers special after-hours parties. You and your crew will get your own private shooting range and staff members dedicated to serving you, on top of all the bells and whistles of a premier Las Vegas gun range experience.
#5: World-Class Transportation & Booking Specials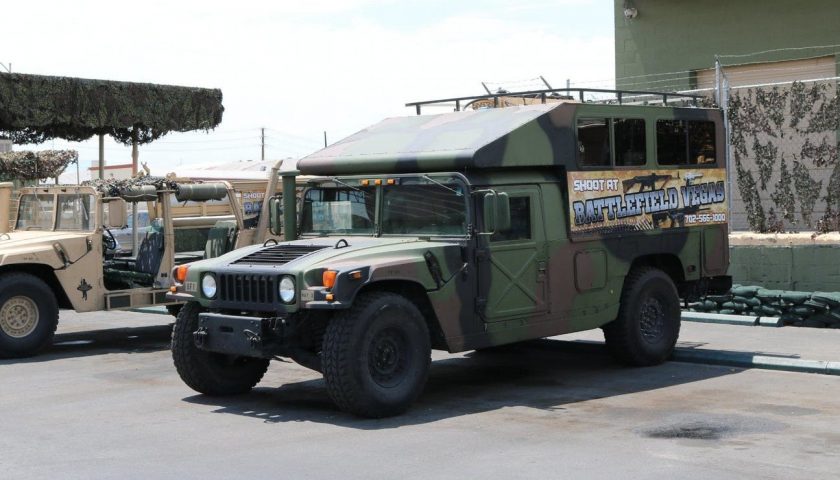 Battlefield Vegas is dedicated to making every facet of your visit as authentic and as exciting as possible. That's why they offer complimentary pick-up and drop-off services in a real U.S. military HMMWV (Humvee). As long as you book at least two hours in advance of the time you want to shoot, Battlefield Vegas will pick you up from your hotel on the Strip (or from Downtown Las Vegas) for no additional charge. When you're done, they'll drop you back off.
In addition, Battlefield Vegas offers great booking specials. In an effort to promote social distancing, four of their most popular outdoor packages are now 25% off regular price! Try the Black Ops Gamer Experience, Ground War Outdoor Package, M60A1 Main Battle Tank, or the M114 Howitzer. This deal is available for a limited time only, so book your Las Vegas gun range experience today to lock in the best deal possible.
Have questions? Check out Battlefield Vegas' FAQ page, or give them a call at 702-566-1000.