Going to your favorite restaurant has gotten a bit more complicated during the coronavirus pandemic. Special precautions must be taken by restaurant staff and patrons alike, including reducing seating capacity, increasing social distancing, and wearing a mask whenever possible.
Choosing a restaurant with outdoor seating is a great way to help mitigate the spread of COVID-19. And luckily for you, Las Vegas has no shortage of outside breakfast, lunch, and dinner options. Check out our top picks for the best Las Vegas outdoor dining experiences below.
Mon Ami Gabi
Open daily 7:00 a.m. – 10:30 p.m.
We're beyond excited that the Paris Hotel has reopened its doors again, and Mon Ami Gabi is just one of many reasons why. This classic French bistro features patio seating alongside bustling Las Vegas Boulevard in addition to more intimate cafe and atrium seating indoors.
Take in the sights and sounds of the Strip while you enjoy fresh baguettes and an impeccable wine list. We recommend the succulent trout almondine, refreshing summer tomato salad, and mouth-watering vanilla bean crème brûlée for dessert.
Mon Ami Gabi is currently accepting reservations for indoor dining only. Patio seating is first come first served.
Reserve a Table
Mizumi
Open Tuesday to Saturday
5:30 p.m. – 10:00 p.m.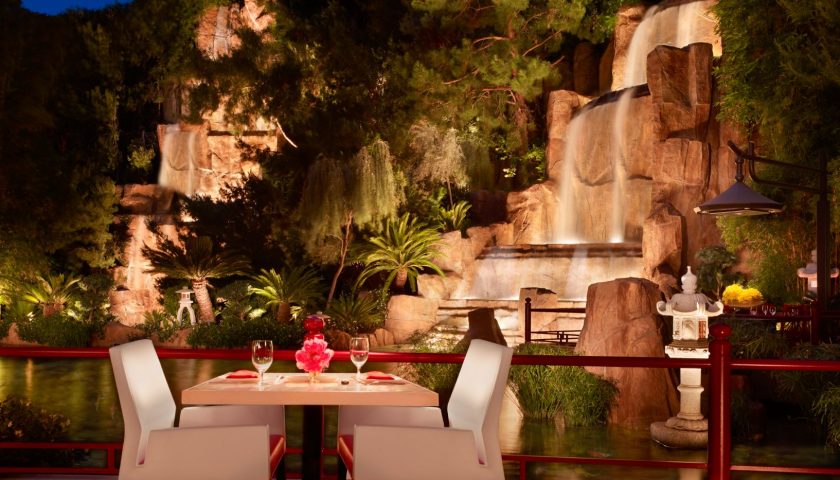 A whole other world awaits you at Mizumi, a Japanese restaurant tucked away at Wynn Resorts. Overlooking private Japanese gardens, a tranquil koi pond, and a 90-foot waterfall, Mizumi will transport all your senses.
For a truly secluded, socially distant, and one-of-a-kind evening, book the floating pagoda table, accessible by a private lush garden path. Chef Min Kim serves up sushi, sashimi, robatayaki dishes, and more at this romantic getaway.
Reserve a Table
Lago
Open daily 5:00 p.m. – 10:00 p.m.
Small plates and bold Italian flavors abound at Lago, a thoroughly modern restaurant located at the Bellagio. Perfectly situated by the Fountains of Bellagio, the outdoor patio at Lago offers some of the best views of the Strip in an intimate and classy setting.
Renowned chef Julian Serrano is serving up a redesigned menu with dishes like shrimp lobster risotto with almond pesto, bistecca with roasted potatoes and green beans, and decadent tiramisu. And with an extensive wine list and unique cocktails, Lago offers libations to quench any thirst.
Reserve a Table
The Barrymore
Open Wednesday & Thursday 5:00 p.m. – 10:00 p.m.
Friday 5:00 p.m. – 11:00 p.m.
Saturday & Sunday 5:00 – 10:00 p.m.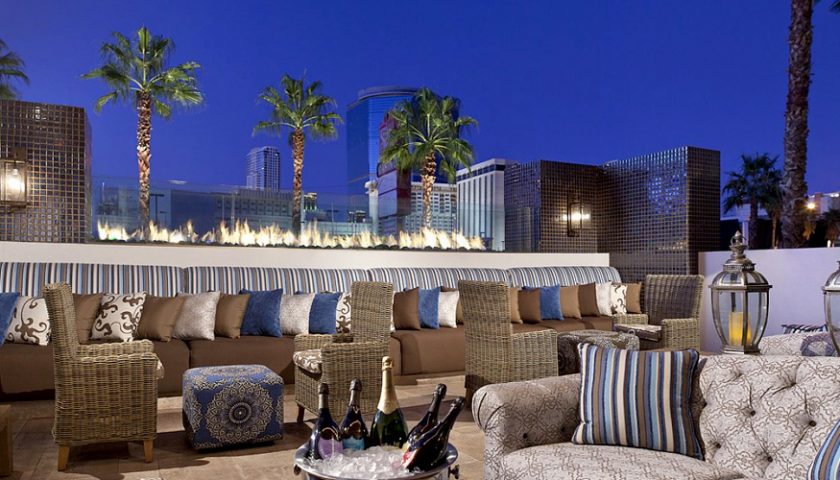 When it comes to Las Vegas outdoor dining just off the Strip, The Barrymore is your best bet. This hidden gem is just north of the Strip inside the Royal Resort. The outdoor patio is sophisticated yet cozy, lined with palm trees and views of the city. Try the dry aged bone-in ribeye steak, lobster mac and cheese, or charred octopus for guaranteed culinary delight.
Enjoy a nightcap with a signature cocktail like The Barrymore, infused with Gentleman Jack Whiskey, Solerno Blood Orange Liqueur, Cocchi Vermouth di Torino, orange bitters, and orange marmalade. The ambiance alone is worth straying from Las Vegas Boulevard, not to mention the live music every Saturday night.
Reserve a Table
Cabo Wabo Cantina
Open Sunday 8:00 a.m. – 11:00 p.m.
Monday 8:00 a.m. – 12:00 a.m.
Tuesday – Saturday 11:00 a.m. – 11:00 p.m.
Tacos, margaritas, and rock and roll—does it get any better than this? At Sammy Hagar's Cabo Wabo Cantina, it's all about good vibes, great food, and stellar views. Located in the heart of the Strip at the Miracle Mile inside Planet Hollywood, Cabo Wabo has long been a favorite for locals and visitors alike.
This laidback Mexican eatery features an impressive outdoor patio with views of the Cosmopolitan, Bellagio, and the Eiffel Tower. Noted for being one of the best spots in town to see fireworks on New Year's Eve, a trip to Cabo Wabo is the quintessential Las Vegas outdoor dining experience.
Cabo Wabo Cantina is currently accepting reservations for indoor dining only. Patio seating is first come first served.
Reserve a Table
Lavo
Open Sunday & Thursday 6:00 p.m. – 10:30 p.m.
Friday & Saturday 5:30 – 10:30 p.m.
Lavo is a bit of a mixed bag, famous both for its refined cuisine and also its wild Saturday party brunches in the fall. What you really don't want to miss here is the amazing outdoor dining terrace. Located at the Palazzo, Lavo's patio seating combines the old-world charm of Venice with bustling Sin City nightlife.
We are especially looking forward to Dolce Sunday, a new supper club experience taking Lavo by storm starting August 16. Diners will enjoy live music, bottle and decanter service, and interactive desserts. What exactly is an interactive dessert, you ask? We're not sure yet, but we're hoping it involves Lavo's 20-layer peanut butter chocolate cake.
Reservations to Lavo are strongly recommended. Please note that outdoor seating can be requested but not guaranteed.
Reserve a Table
Beer Park
Open daily 4:00 p.m. – 11:00 p.m.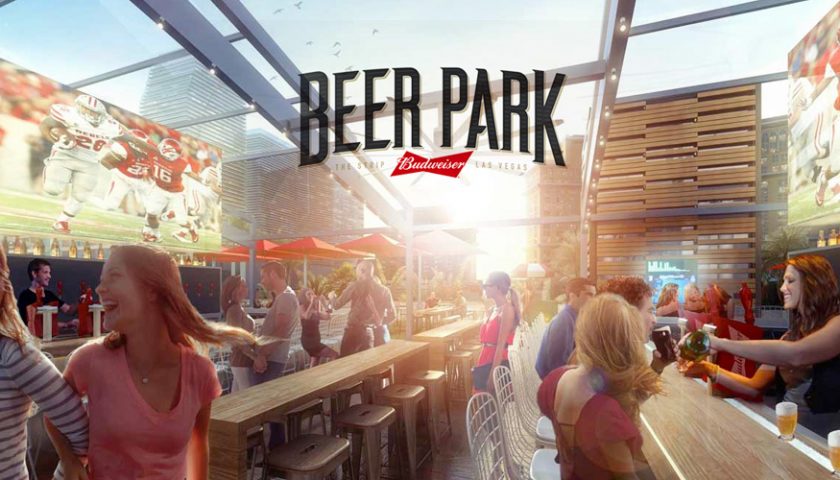 Beer Park is all about fun. Although high-contact games like giant Jenga, pool, and foosball have been temporarily suspended, this rooftop dining experience keeps the fun alive with engaging mobile games for guests. The 10,000 square foot deck overlooks the Strip from atop the Paris Hotel and is fitted with plenty of big-screen TVs for sports nuts.
You'll also have your fair pick of nearly 50 different draft beers and beer cocktails, plus specialty cocktails for those looking for a stiffer drink. Their menu boasts soft twist pretzels with beer cheese fondue, a Kahuna Cowboy burger, fish and chips, sandwiches, and Budweiser-brined BBQ pork ribs.
Reserve a Table
There's Always Something To Do In Las Vegas
Don't let the COVID-19 pandemic put a damper on your vacation. There's always something to do in Las Vegas, including plenty of socially distant activities like cooling off at one of the best swimming pools in Las Vegas or hitting one of the valley's many hiking trails. For more ideas and to stay up to date on the latest things to do in Las Vegas, be sure to follow us on Facebook.