The Las Vegas Strip went dark more than two months ago when Nevada Governor Steve Sisolak ordered a statewide coronavirus shutdown. Residents, hospitality workers, and visitors alike have been holding their breath ever since, wondering when the glittering neon of Sin City would return.
With new coronavirus cases and hospitalizations finally on the decline, that day has finally come. Major hotel-casinos throughout the valley have announced their grand reopening dates of June 4, 2020 with reduced room capacities and new disinfecting protocols to help keep visitors safe.
Find out everything you need to know about the Las Vegas Strip reopening (including where to get some of the best reopening deals) in this guide from Things to Do in Las Vegas.
Which Hotels on the Strip Are Reopening on June 4?
Almost every major hotel on the Strip has plans to reopen sometime during the day on June 4, although there may be some notable changes to which restaurants, bars, and other amenities will be available.
Bellagio
Open at 10:00 a.m.
Rooms from $139 per night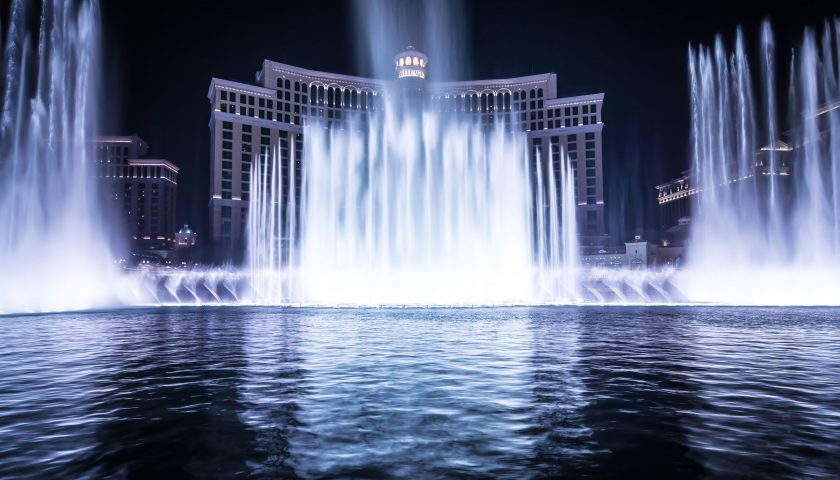 The Bellagio Hotel is now accepting reservations for June 4 and beyond. There will be a celebratory display at the Bellagio Fountains to kick off the reopening, as well as the unveiling of the spring exhibit at the Bellagio Conservatory. 
During your weekend getaway, you'll also have access to pool cabanas, the salon and fitness center, plus your pick of some of the top Strip restaurants including the new Mayfair Supper Club and Prime Steakhouse, as well the luxurious Baccarat Bar.
Caesars Palace
Rooms from $99 per night
The gaming floor and pool areas will be open to guests at Caesars Palace. In addition, free parking will be offered to all visitors. Gordon Ramsay's Hell's Kitchen will be serving dinner, while Vanderpump's Cocktail Garden and the Lobby Bar will offer classy cocktails and even classier ambiance.
Cosmopolitan
Open at 10:00 a.m.
Rooms from $190 per night
Guests of the Cosmopolitan will be delighted to find that almost all of the hotel's amenities will be available, from the Boulevard Pool to the Sahra Spa. Fitness centers, gaming tables, and slot machines will also be open.
Treat yourself to dinner at STK or Scarpetta, or just sit back and enjoy a handcrafted cocktail at the always classy Chandelier. To better serve visitors impacted by COVID-19, Cosmopolitan has also extended its cancellation policy from 72 hours to 24 hours before your reservation and is offering free self-parking.
Wynn and Encore
Open at 12:01 a.m.
Wynn rooms from $169 per night
Encore rooms from $169 per night
Both Wynn and Encore are pushing the envelope, opening just after midnight on June 4. All restaurants and lounges are slated to reopen, including crowd favorites Red 8 and Sinatra.
The Wynn Golf and Country Club will be booking tee times and, if you're in the mood for some retail therapy, the Encore Esplanade will be open for business. While nightclubs remain closed due to the coronavirus, you can still secure a private cabana at the pool or enjoy a signature Pear-a-Sol cocktail at Parasol Down.
Flamingo
Open at 10:00 a.m.
Rooms from $35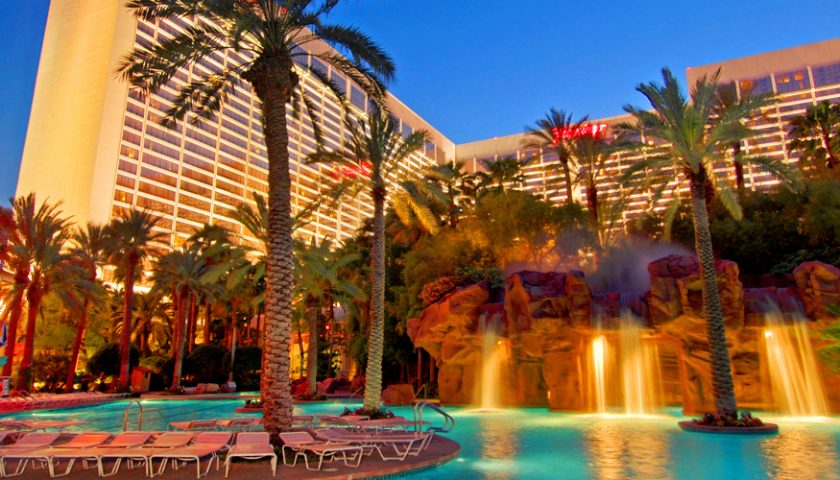 If you're looking for a great deal on a hotel room to celebrate the Las Vegas Strip reopening, the Flamingo is a great option. No word yet on which restaurants and bars will be open at this historic and iconic hotel, but slot machines, table games, and the Go Pool are slated to open.
The nearby LINQ Hotel hasn't announced a reopening date yet, but the High Roller and the LINQ Promenade are also expected to open at noon on June 4.
MGM Grand
Open at 10:00 a.m.
Rooms from $49 per night
Visitors to the MGM Grand will have access to the Grand Spa, fitness center, and the salon—perfect for a day of rejuvenation and self-care after months without so much as a trip to the stylist. You can also grab a drink poolside, cool down at 32 Degrees, or experience the culinary delight of Wolfgang Puck Bar and Grill.
New York New York
Open at 10:00 a.m.
Rooms from $30 per night
New York New York is offering some of the lowest room rates on the Strip during its reopening phase. Although the Poker Room remains closed, BetMGM sportsbook will open as will the rest of the casino floor. Take a ride on the Big Apple coaster, hit the arcade, or catch some rays at the pool. A handful of retailers, including Hershey's Chocolate World, will be open as well. Enjoy food and drinks at Nine Fine Irishmen, Americana, Gallagher's Steakhouse, and more.
The Strat
Open at 8:00 a.m.
Rooms from $32 per night
The Strat offers some of the most affordable rooms on the entire Las Vegas Strip. At a whopping 1,149 feet tall, its observation deck is the tallest in the United States, with stunning views of the city. Have dinner at the Top of the World topped off with drinks at 107 Skylounge.
If you're an adrenaline junkie, the Big Shot and SkyJump attractions will also be open starting June 4. For a different kind of thrill, you can even get married at The Strat's Chapel in the Clouds.
Treasure Island
Open at 10:00 a.m.
Rooms from $56
Treasure Island is excited to welcome back guests with open (socially distant) arms. Spend the day in the tropical outdoor pool and enjoy a frozen margarita or pink lemonade to beat the heat. Senor Frog's, a longtime favorite watering hole, will be open 5:00 p.m. to 11:00 p.m., while Breeze Bar's seaworthy mojitos and Pizzeria Francesco's top-notch Italian fare will also be up for grabs.
Venetian
Open at 9:00 a.m.
Rooms from $135 per night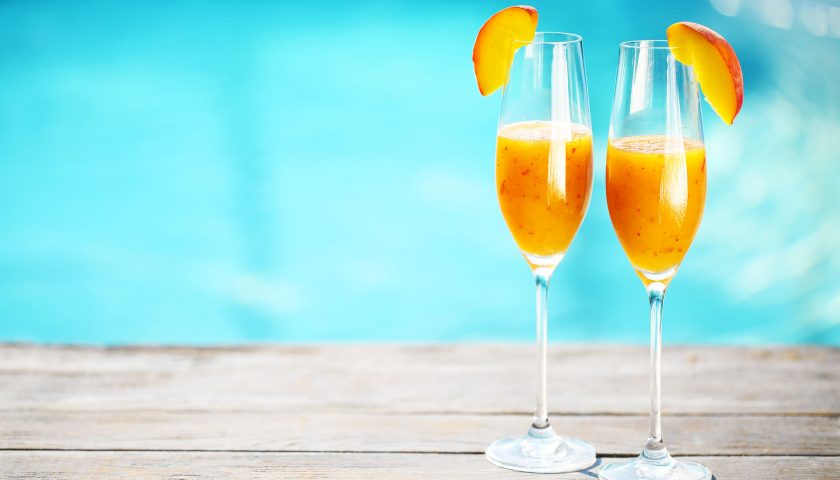 In addition to reopening the casino gaming floor, fitness center, and the Grand Canal Shoppes, the newly-renovated Venetian pool deck will also be making its debut with three infinity pools, a splash pad, and upgraded cabana experiences.
You can still dine in at Noodle Asia, the Grand Lux Cafe, Bellini Bar, and more than twenty other bars and restaurants which are ready to serve you with appropriate safety measures.
When Will the Rest of Las Vegas Reopen?
Reopening Las Vegas will be a gradual process to ensure that citizens and visitors alike stay safe and healthy. Remember to follow CDC guidelines regarding the novel coronavirus, including practicing social distancing, wearing a cloth face mask, and staying home if you feel unwell. 
Like you, we're on the edge of our seats here at Things To Do in Las Vegas as we eagerly anticipate the full reopening of our favorite city. To be the first to know about reopening plans and other exciting updates, you can follow us on Facebook, Twitter, and Instagram.
For a full list of all the hotels reopening on and off the Strip, click here.