LAS VEGAS ZIPLINE AT BOOTLEG CANYON
Flightlinez provides a unique kind of zipline experience. They have different packages for guests. Some of the package includes hiking and flying. You will be taken around the world famous Boulder City and Bootleg Canyon where you can enjoy amazing scenic views. This is an unforgettable experience for you and your loved ones.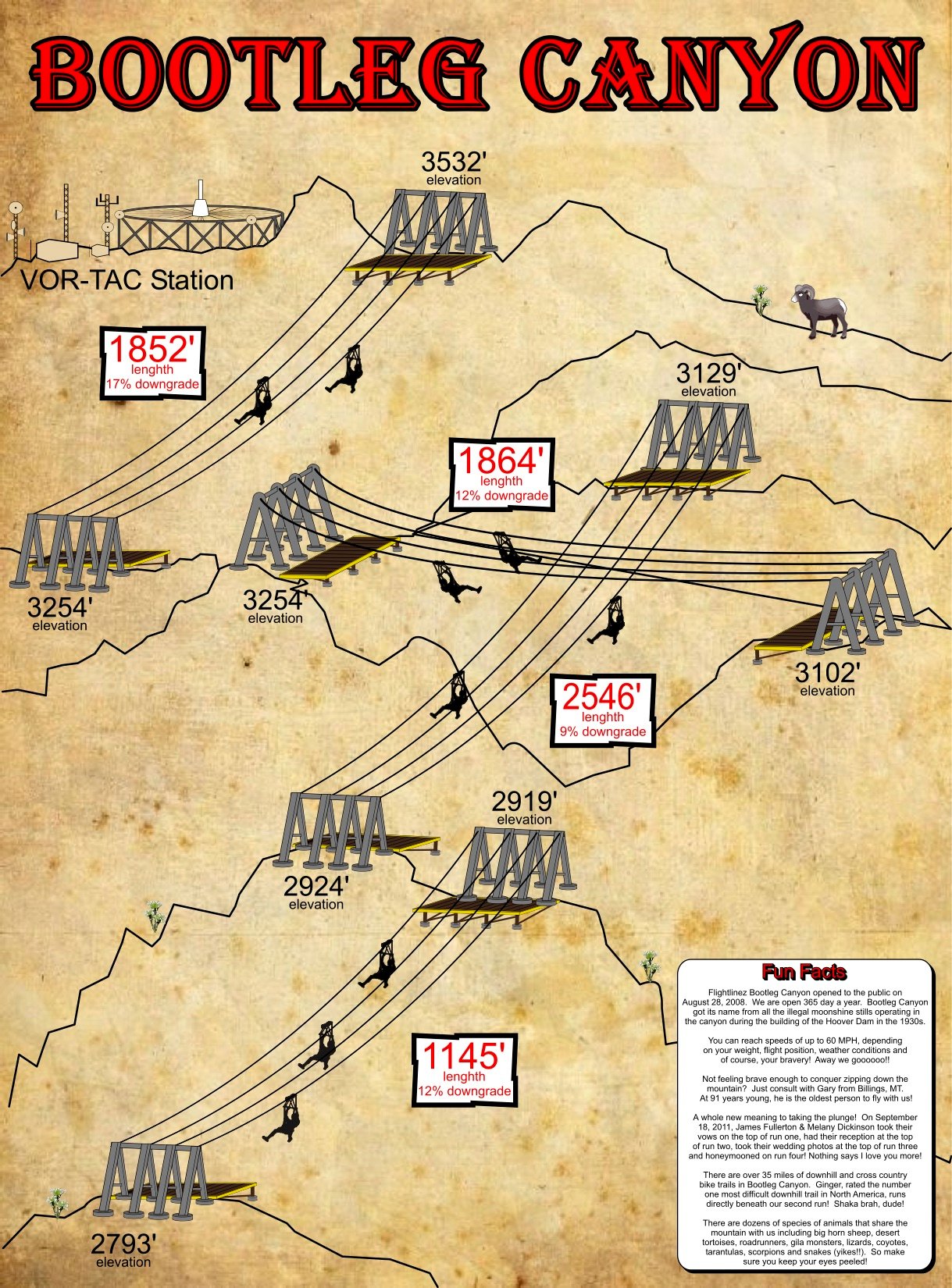 ---
Times and Location
Departing Times: 9:00 a.m. | 10:00 a.m. | 1:00 p.m. | 2:00 p.m. | 5:00 p.m. |
Duration: Approximately 3 hours
Departing: Las Vegas
Destination: Bootleg Canyon
Details
Enjoy a relaxing ride to debarkation point
Receive a short 20-minute class
Freefall on your peaceful parachute ride
Inclusions
Exclusive hotel pick-up and drop off in your luxury VIP chariot
Morning snack and beverage
Travel in style in a smooth, comfortable Mercedes Benz
Refreshments on board
Personal VIP travel pack
2 hours at the Zipline
Lunch
Stop at the Las Vegas Welcome sign
Departs from Las Vegas
Need To Know
Tennis shoes or hiking shoes required (No sandals or open toed shoes.)
Service dogs may travel with the correct and current paperwork.
Small oxygen tanks are permitted.
Description
Are you looking for something different and fun to do off of the Las Vegas Strip? Do you crave exciting outdoor adventures? Do you seek thrills everywhere you go? Well, we've got what you're looking for at Flightlinez Bootleg Canyon! With over 1.5 miles of zip line over the course of four separate runs, get ready to experience the rush!
We take great pride in all of our guides. They are: funny, approachable, safety-conscious, professional, and in killer shape! Each guide takes special care to make sure that everyone in the group is not only safe, but that they are comfortable as well. They live to make sure that each guests' experience is the experience of a lifetime!
This experience is amazing! Speeds can be up to 60 miles per hour which is something adrenaline junkies love. Travel over 1.5 miles of ziplines that extend to over four distinct runs. Enjoy scenes of Lake Mead as you enjoy a ride over the Red Mountains in our paragliding harness. The unique buzzing of the steel cables can fill your ears as you enjoy the thrill of speed and flight. On your journey you'll enjoy the amazing desert landscape and big blue skies. The canyon houses; chuckwallas, red-tail hawks, big horn sheep, and a lot more. Experienced guides will make sure that you are safe and comfortable. They will offer you information on the geological, historical and ecological information, and even make you laugh at the same time.
---
Note:
If you are not picked up within five minutes of your pick-up time, do not wait. Please CALL US IMMEDIATELY.
You must weigh between 75 and 250 pounds. This option is not recommended for children under the age of 12.
---
To talk to a live person call 1-800-VIVA-VEGAS or 800-848-2834.
Email Customer Service with any questions or comments [email protected]