If you're looking for a leisurely sight seeing tour of the desert, this is NOT the tour for you. But if you're looking for excitement, adventure, adrenaline, thrills, and loads of fun, then this is EXACTLY the tour you want! At Sun Buggy, there are a wide selection of ATVS, buggies, and more that can seat anywhere from 1 – 6 people! This fast-paced ride is fun for everyone in the family, so come on out and experience the off-roading adventure you've been looking for!
On the other hand, if you ARE looking for leisure, the Valley of Fire Tour is a great alternative to the craze of the Mini Baja. You'll get to see more of the stunning landscape and wildlife in the valley.
---
Times and Location
Duration: Approximately 4 hours
Available Times: Daytime Hourly 9:00am to 4:00pm
Destination: Las Vegas Dunes Off-Road Recreation Area or Valley of Fire
---
Sun Buggy Vegas Mini Baja Chase DS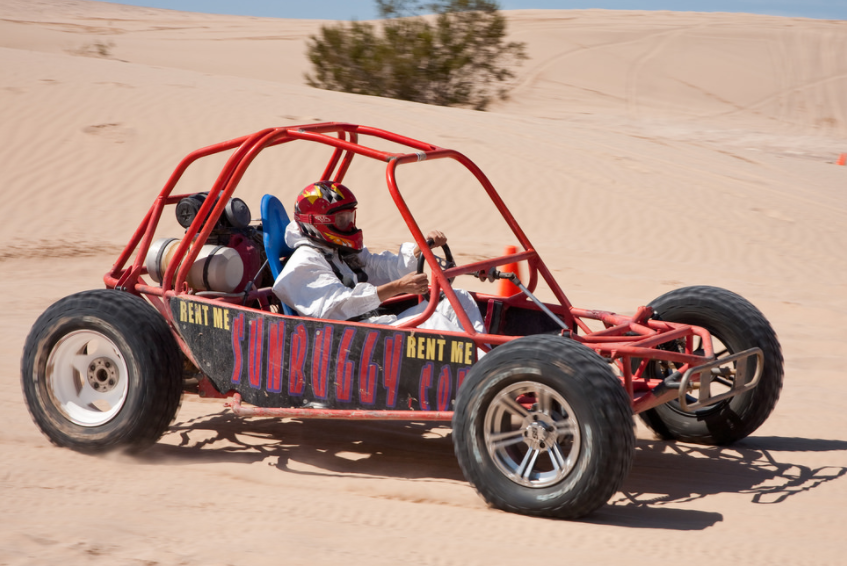 The Mini Baja Chase is NOT for the faint of heart! You'll race at death-defying speeds on the famous drive, featured on TV all over the world! It's an experience not to be missed! You can drive yourself, bring
some friends, or sit in the passenger's seat and let the professionals do the steering, skidding, sliding, and soaring over the sand dunes!
Sun Buggy Valley of Fire Tour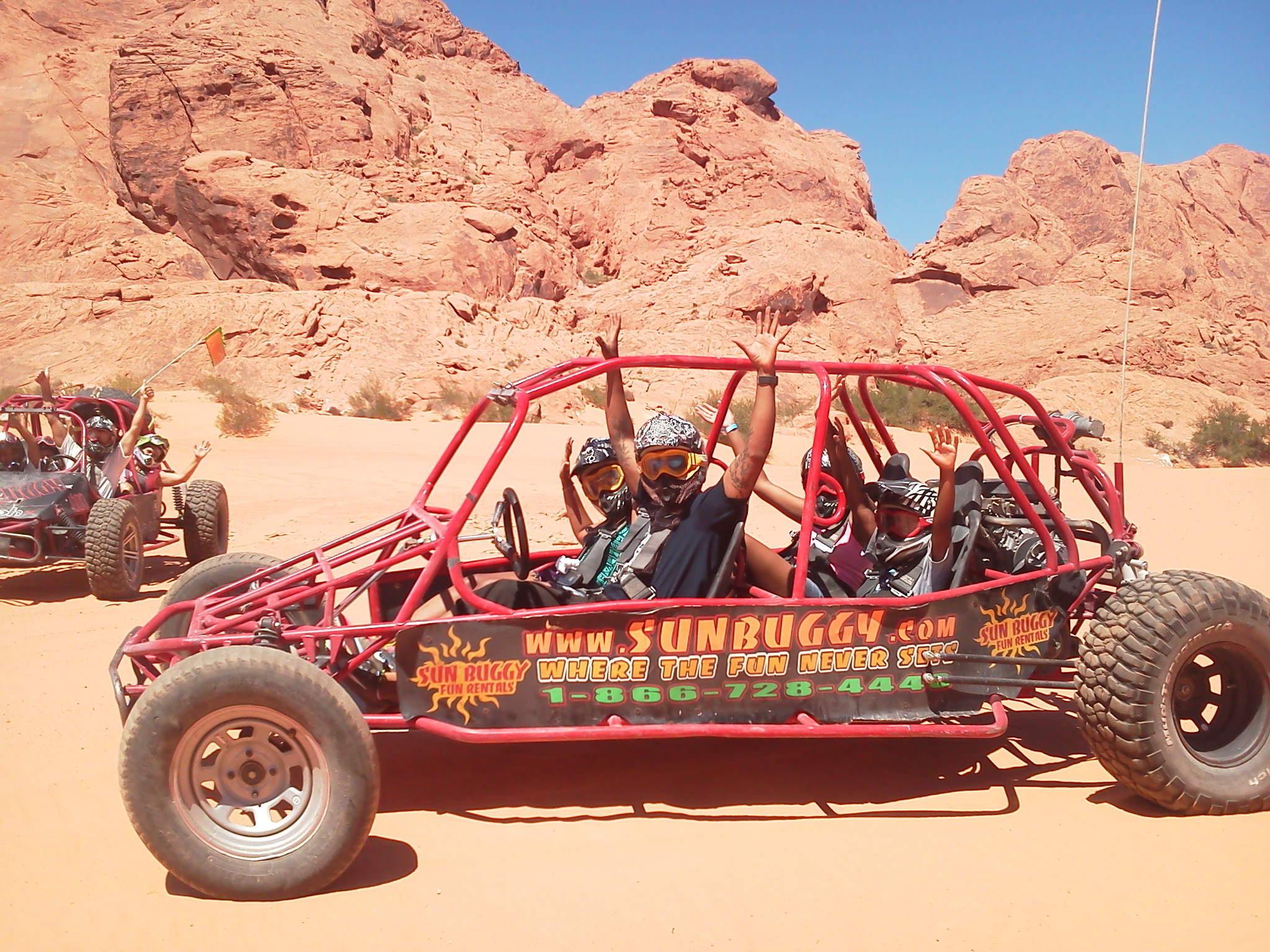 Come see the beauty of nature with this Valley of Fire on this sight seeing tour. This off roading adventure will let you go where few have been before, to see unique and untouched landscapes. You'll see Big Horn Sheep and other wildlife, and of course, the signature rock formations and red sand.
Details
15,000 acres of varied high desert terrain or Valley of Fire National Park.
Racers have a Full Roll Cage and 4 Point Harness
Courtesy premium hotel pick-up and drop off.
Inclusions
Courtesy premium hotel pickup and drop off.
Bottled Water
Includes helmets and goggles
Includes gas
Need To Know
Bring your credit card that you paid with or voucher and a matching ID.
Description
FIRSTLY, THESE ARE NOT SLOW PACED OFF ROAD SIGHTSEEING TOURS. Your job will be to chase one of our expert Dunies. So the only thing that will slow our Dunie down is if he's waiting for you to catch up. The Vegas Dunes Off-Road recreation area consists of dunes, gravel, hard pack, hills, valleys, washed out creek beds, and trails running in every direction.
This is similar to a roller coaster ride, except you're DRIVING! You sit inside a fully welded double loop steel roll cage and are required to wear a full face helmet and a 4-point harness at all times on the Off-Road course. While our custom buggies are expert at taming this type of Off-Road terrain, you need not be. They're easy to drive with only gas, brake, and steering – just like your automatic car. We make these buggies tough so you can really put them to it. Lastly, just remember, it's your tour: you can go as fast as you feel comfortable.
Note:
+ Additional Information
Firstly, bring your credit card that you paid with or voucher and a matching ID. Our Minimum age to ride as a passenger is 4 years old. Everyone must wear a full face off road helmet during their adventure, and it's just too much for a small child
to ride around off road with the additional weight on a young neck. If your child 4 or older normally requires a car seat, bring it along and you can use it in the buggy.
We require that those Driving a Sun Buggy be either 16 with a valid driver's license, or 15 with a driving permit AND a parent in the buggy.
Attire
Wear whatever you're comfortable in and keep in mind that you'll get dirty. The biggest thing to AVOID is "flip flops" or sandals as they'll tend to fall off your feet when driving. Shorts are OK but many who've done a Mini Baja Chase in shorts were
walking funny afterwards. Lastly, it's important to note that gratuity is not included.
NO REFUND POLICY: Sun Buggy Reservations are guaranteed, as such there are NO CANCELLATIONS. Should a customer need to change or delay their reservation and can provide a minimum of 24 hours' notice, rescheduling or delaying to a later date is
permissible for up to 2 years. Without 24 hour's notice no rescheduling is permitted and there are no refunds for missing a reserved time.
Clients are expected to follow safety instruction of their Dunie and failure to do so may result in early termination of their experience with remaining ride time forfeited. At Sun Buggy, Safety is no accident! Any type of mechanical issues not the
fault of the customer affecting rental time are fairly compensated with additional ride time only "RE-FUNS".