Always the bridesmaid, never the bride? Stuck planning the bachelorette party?  If that's you, make it a Las Vegas party, and that way, everyone wins! Sin City is full of amazing things to do, see, and eat! Check out our list (and infographic!) for how to plan a spectacular bachelorette party in Las Vegas!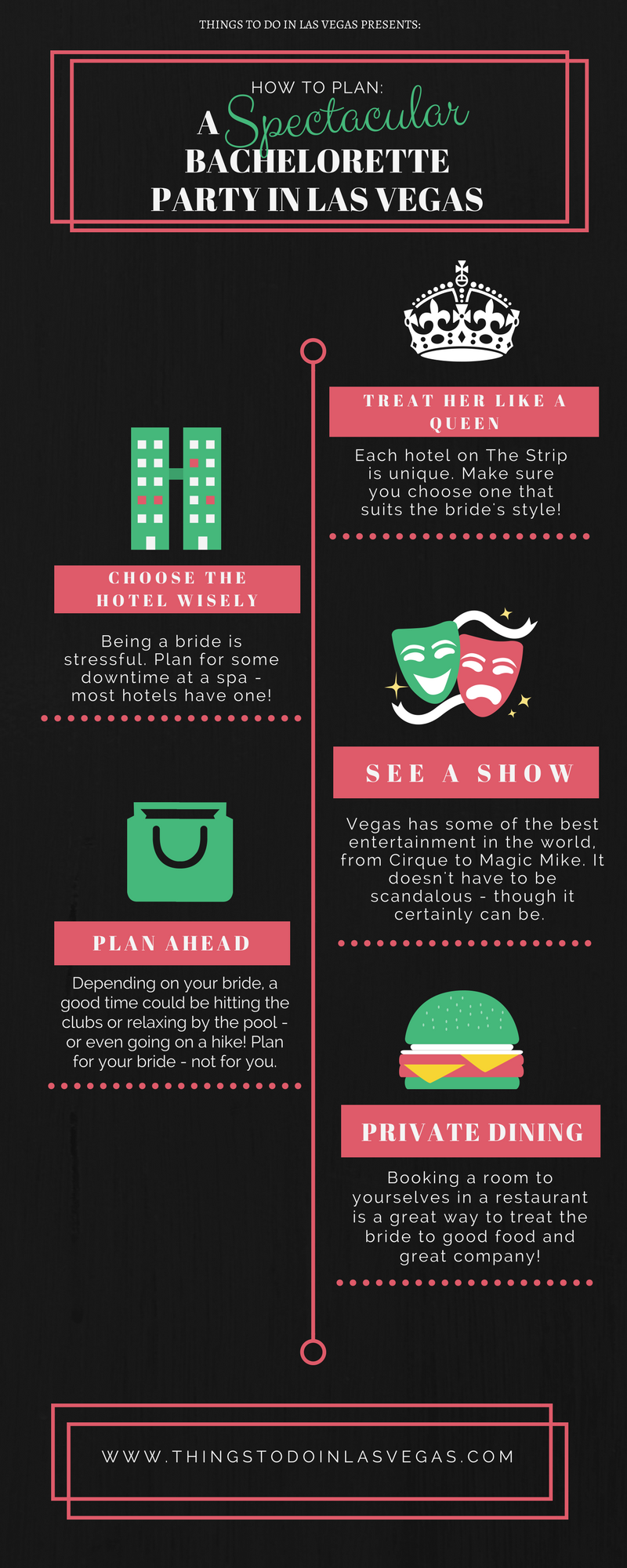 Pick the Right Hotel
When planning a bachelorette party in Las Vegas, the hotel you choose is key.  Think about the bride, and what her style is – will she want to party the weekend away, or relax by the pool?  Does she want high energy, or something a bit more laid back?
First, narrow down whether you think she'd like to stay on The Strip or not.  The benefits are many – access to pool parties, clubs, bars, shopping, restaurants, and more! The (potential) downside, however, is it's crowded, noisy, and goes all hours. If you're looking for party central, check out these Strip hotels:
If you want to stay on The Strip, but want something a little less crazy, try The Aria or The Wynn.
There are also tons of places to stay off The Strip – you'll get all the glitz, glamor, and pampering, without the crazy parties and crowds.  For example, Lake Las Vegas! Or try staying further out in Henderson or Summerlin.  These mature, laid back places still give you proximity to The Strip, but you can always come back for a nice, relaxing night in.  Check out these hotels off The Strip:
Relax at a Spa
Planning a wedding can be insanely stressful, so make sure you treat the bride (and yourselves) to a relaxing spa day.  Vegas has hundreds of amazing spas and salons, many of which are located inside hotels on The Strip.  When booking your hotel, check out the spas and see what kind of rates and packages they have! For example,or for a Roman-inspired relaxation day, check out QUA at Caesars, where you'll find steam rooms, ice rooms, jacuzzis, saunas, and more! Or head over to The Aria for a mega list of treatments, including facials, massages, personal training, hair care, and more.
And don't forget to check out our list of the Top 5 Spas in Las Vegas, both on and off The Strip!
Check out a Pool Party
Nothing says summer (or winter, or spring, or fall…) like a pool party in Las Vegas. Choose from more relaxed, easy going places like The Aria's Liquid Pool, or epic dance parties like Drai's at The Cromwell.  You'll find all kinds of services, like swim-up poker games, on site bars and restaurants, private cabanas, and more.  Jam out to your favorite songs from world renowned DJs like Diplo and David Guetta. Some pools, such as TAO Beach at The Venetian, even offer European style bathing (read: topless ladies).
Check out our list of 10 of the sweetest pool parties in Vegas!
Party at a Club
Vegas is known for having some of the hottest clubs, and people come from all over the world to party it up on The Strip. From Hakkasan to 1 OAK to JEWEL, there's an atmosphere and vibe out there for everyone.  If you're looking for something a little more laid back, try The Foundation Room at Mandalay Bay. You can do your own thing, or book tickets for a party tour, where a private party bus will take you to the best clubs in town.
If clubs aren't quite your thing, check out our list of 5 awesome, unique bars in Downtown LV instead!
Go Shopping
Vegas has amazing shopping centers for everyone, in every price range.  Want to drop a pretty penny on designer wear? Check out The Forum Shops at Caesars or Shopping at The Bellagio. Looking for a unique gift? Try The Grand Canal Shoppes at The Venetian, where you'll find a myriad of interesting shops, including Bauman's Rare Books! If you'd rather save your money for clubs, spas, or other activities, but still want that Vegas shopping experience, try Miracle Mile, Fashion Show, or Town Square, where you'll find everything from Forever 21 to Louis Vuitton.
No matter what you're looking for, whether a gift, a going out dress, new headphones, books, and more, you'll find it at any one of Vegas' amazing shopping centers!  For both on and off The Strip locations, check out our list of 10 great shopping areas in Las Vegas!
See Vegas from The High Roller (and drink!)
The High Roller is currently the highest observation wheel in the world.  At a whopping 550 ft, it provides amazing views of The Strip, Las Vegas, and the surrounding desert.  Best of all, you can drink on this ride!  Book tickets for a drinks pod, day or night!  You can even do yoga in a pod, or enjoy a chocolate tasting! The sky's the limit (literally) and your bride is sure to love the views, the drinks, and the company!
Eat at a Restaurant with Private Dining
Many restaurants in Las Vegas have private dining areas, where small to large groups can gather and celebrate together!  These venues are perfect for bachelorette parties Get the girls together at restaurants like Gordon Biersch Brewery, Bouchon, or Cleo at the SLS. Different restaurants accommodate different size groups, so be sure to book in advance with your bride's favorite place!
Take in a Show
From Cirque du Soleil to Britney Spears, Las Vegas has some of the best entertainment in the world.  So why not treat your bride to a front frow seat at the show she's always wanted to see? You can go the traditional Vegas Bachelorette route and check out Chippendales or Men of Sapphire, where the men are half dressed and hunky; or, if you want something a little more reserved, go for a concert or magic show.  Vegas has tons of options to suit every desire!